SHOP
Proudly handwoven and made with love in Sydney, Australia. With each fibre and material hand sourced and carefully considered, each piece is truly one-of-a-kind. Instantly add warmth, character and 'the mark of the hand' to your interiors today.
'CREVICE'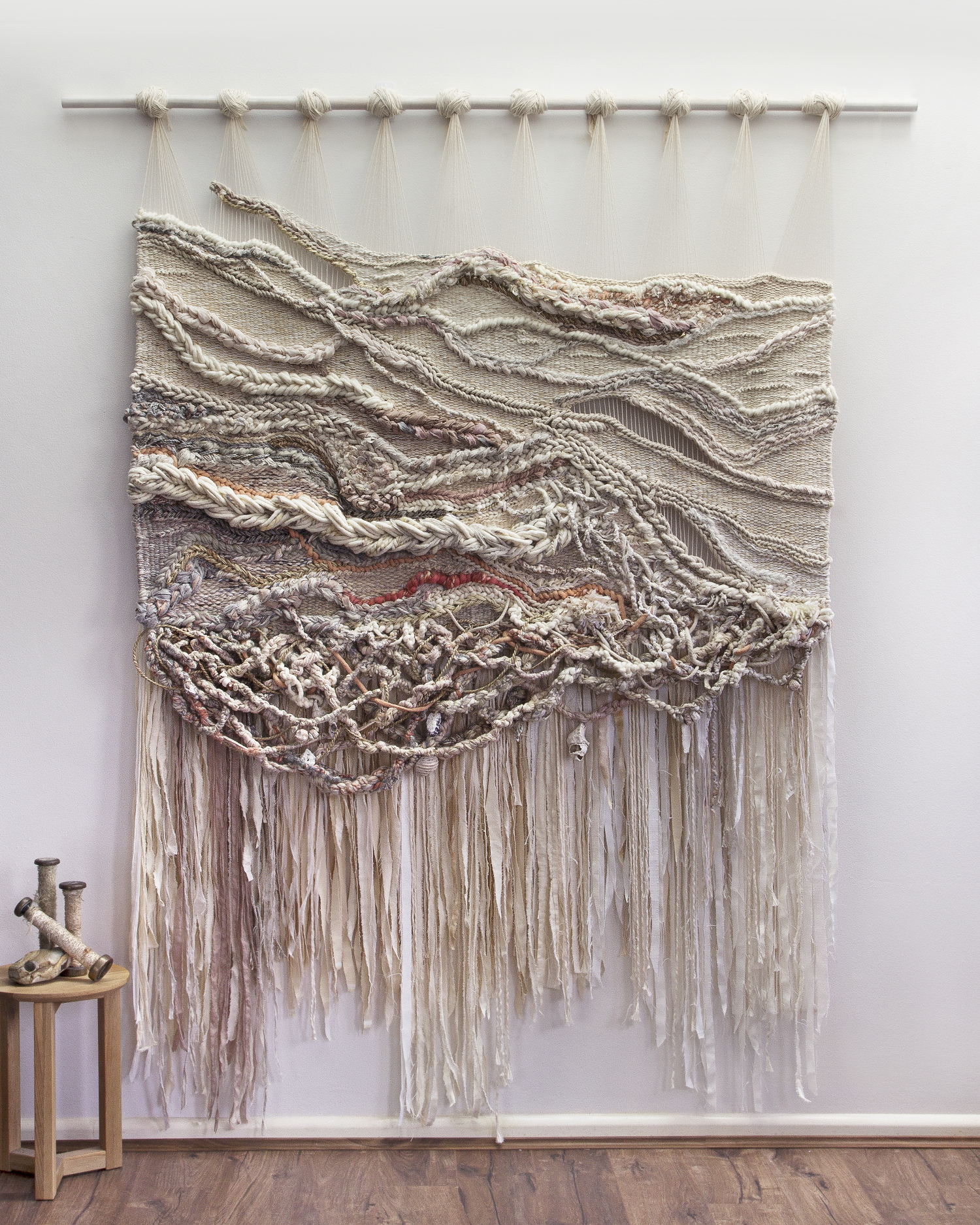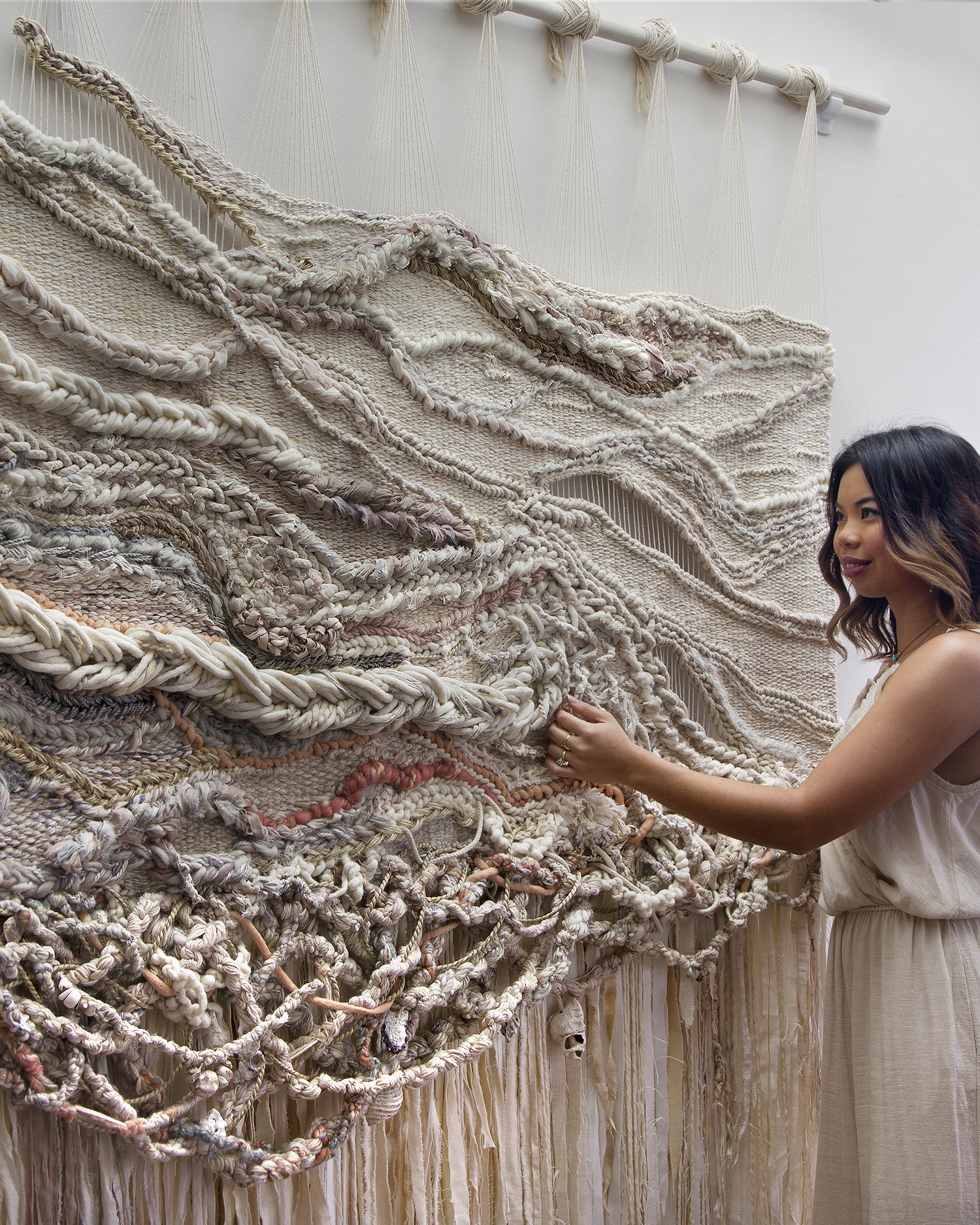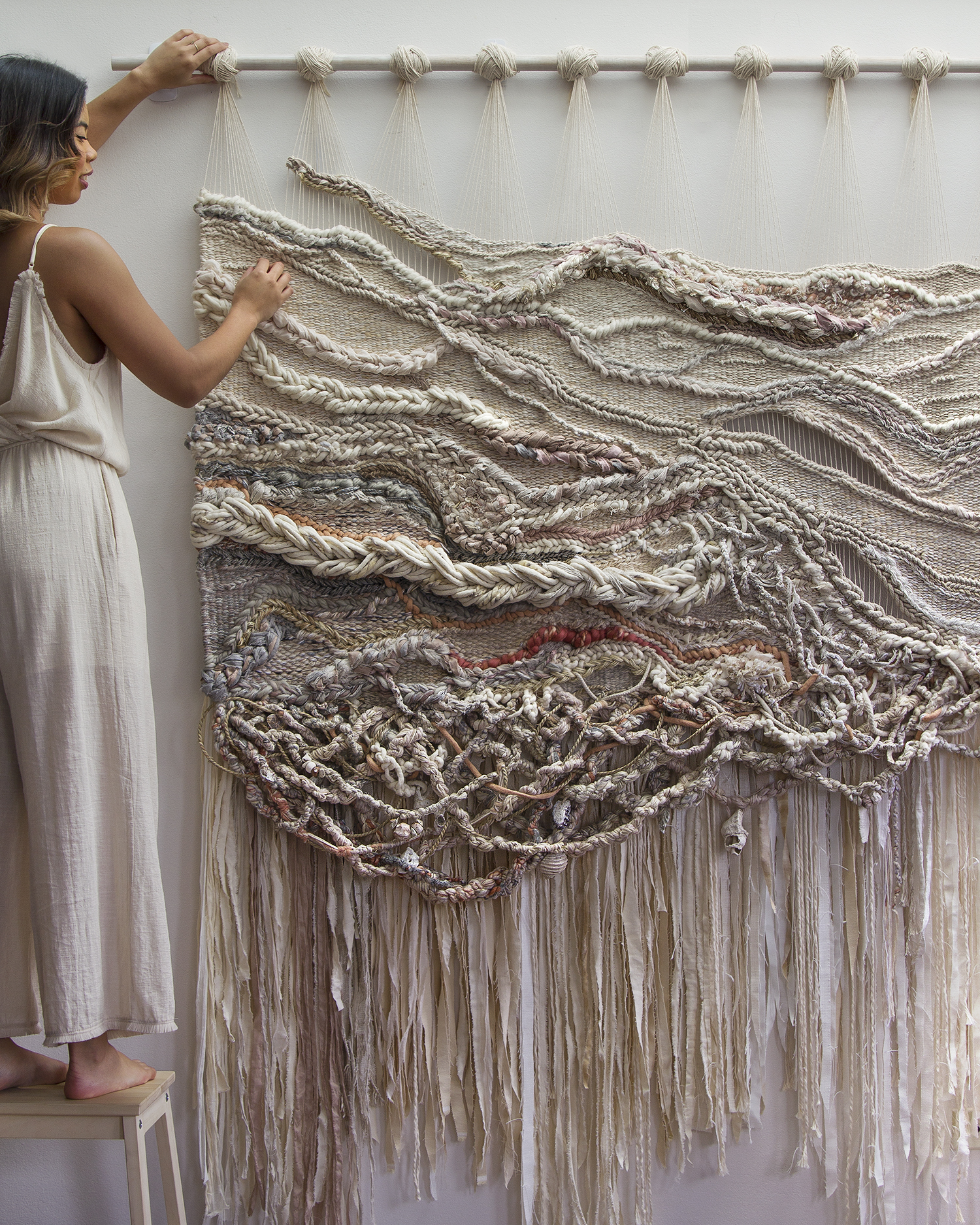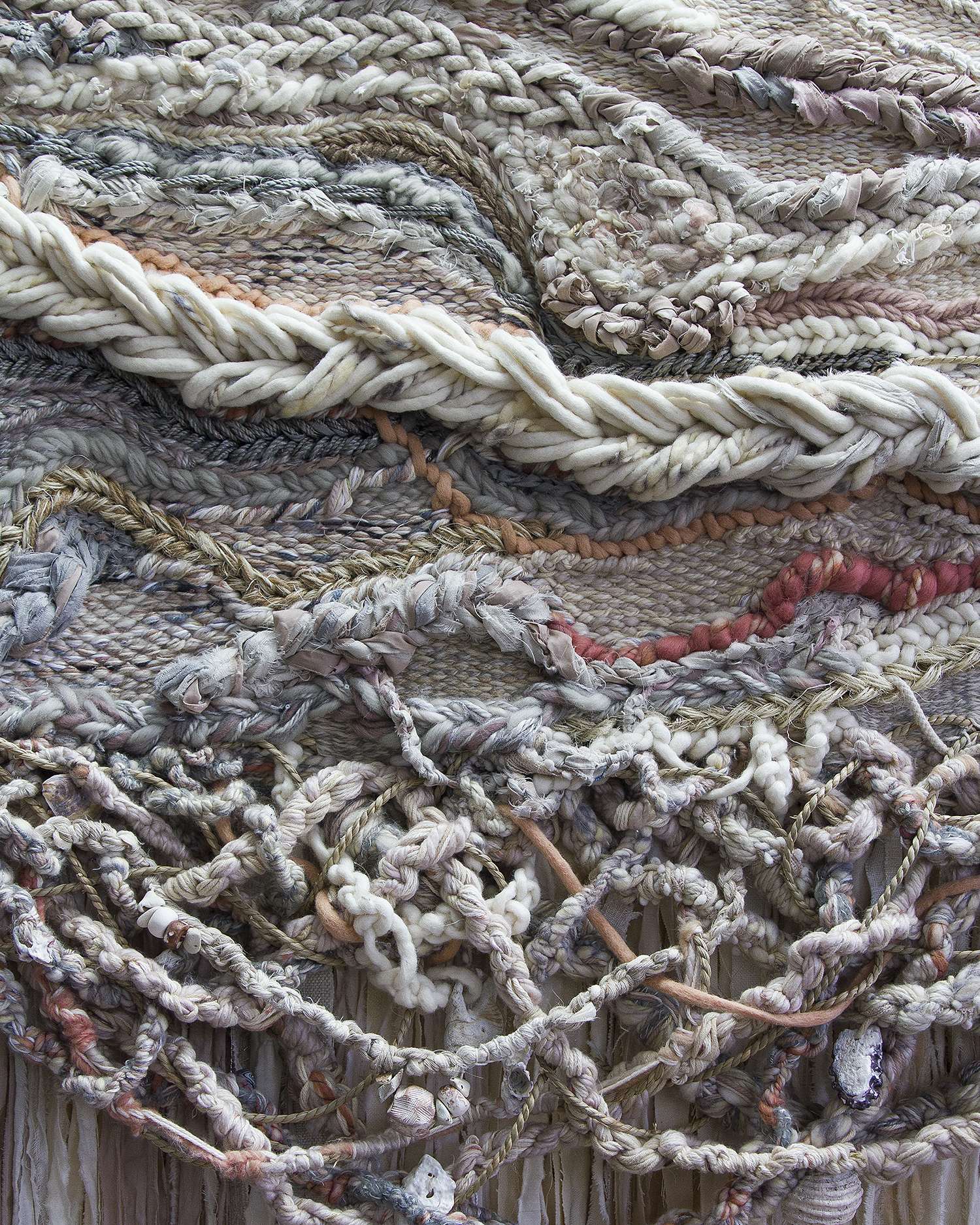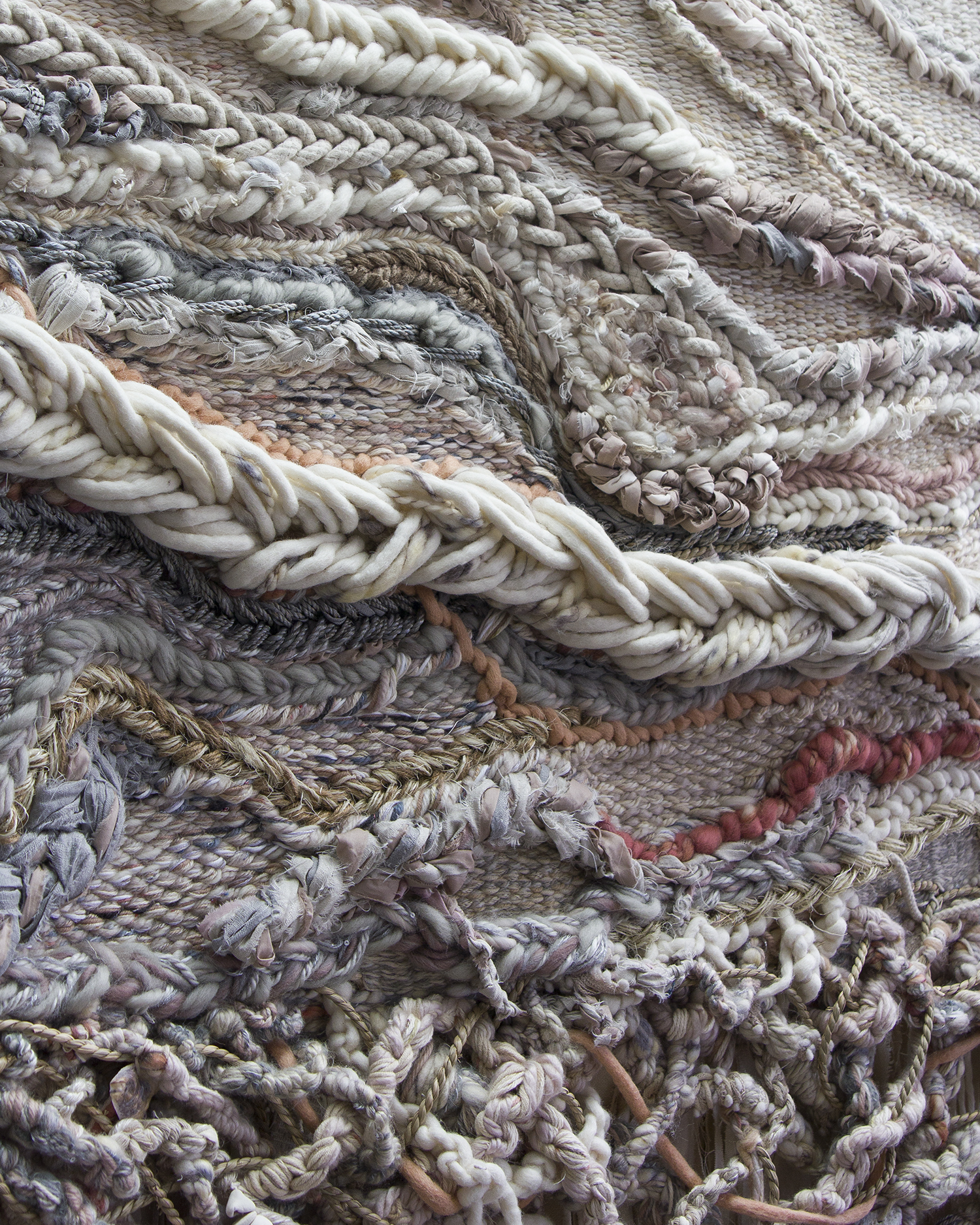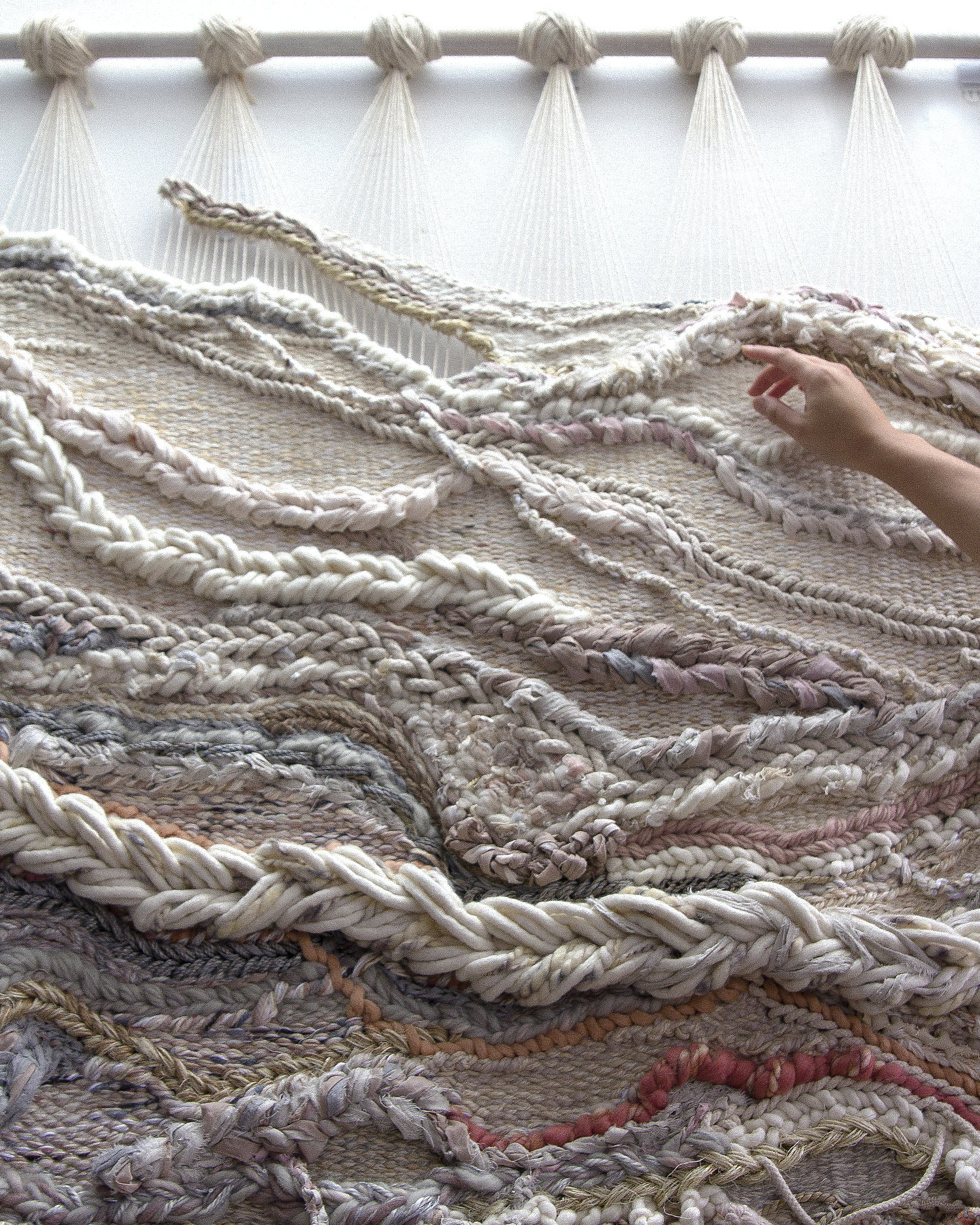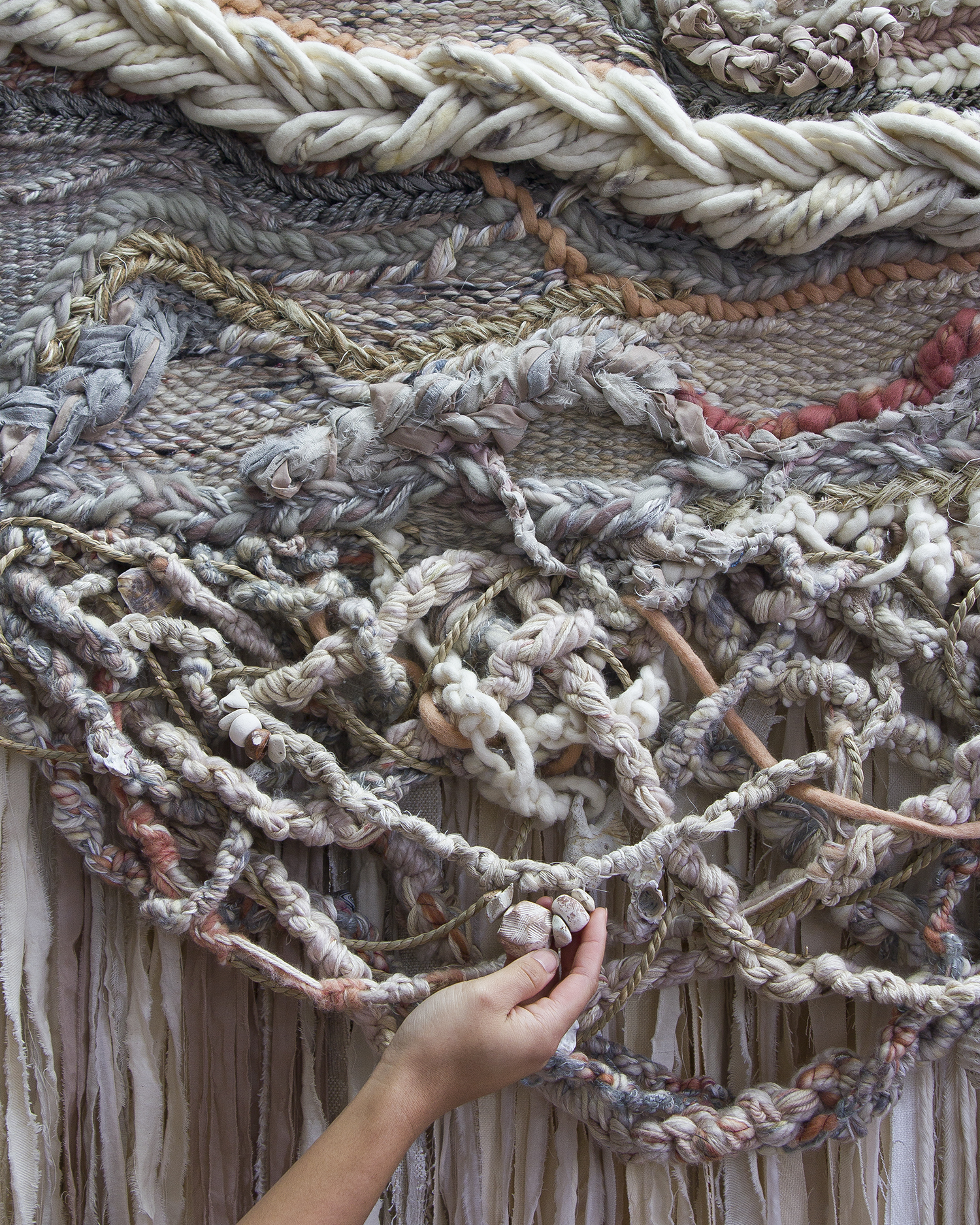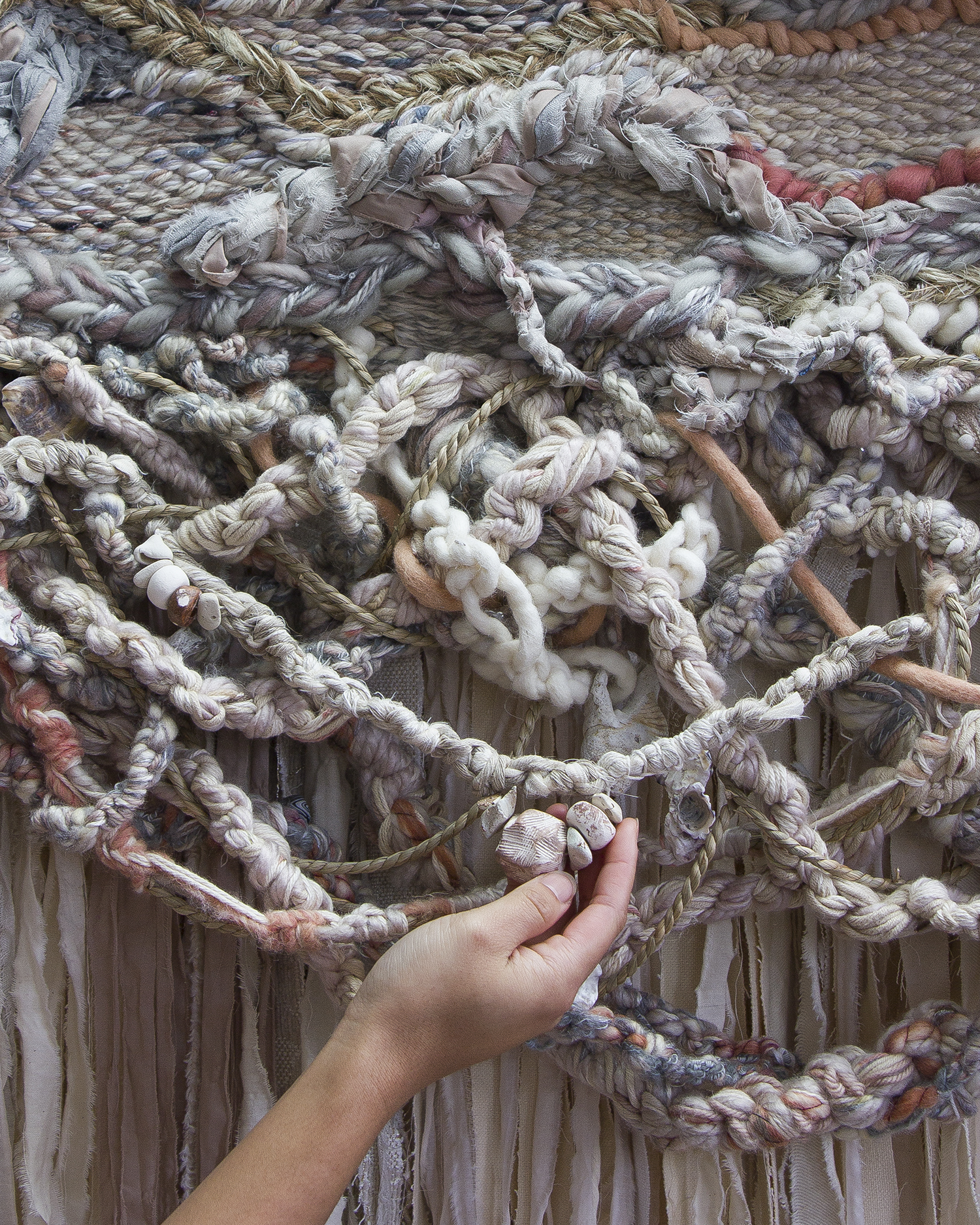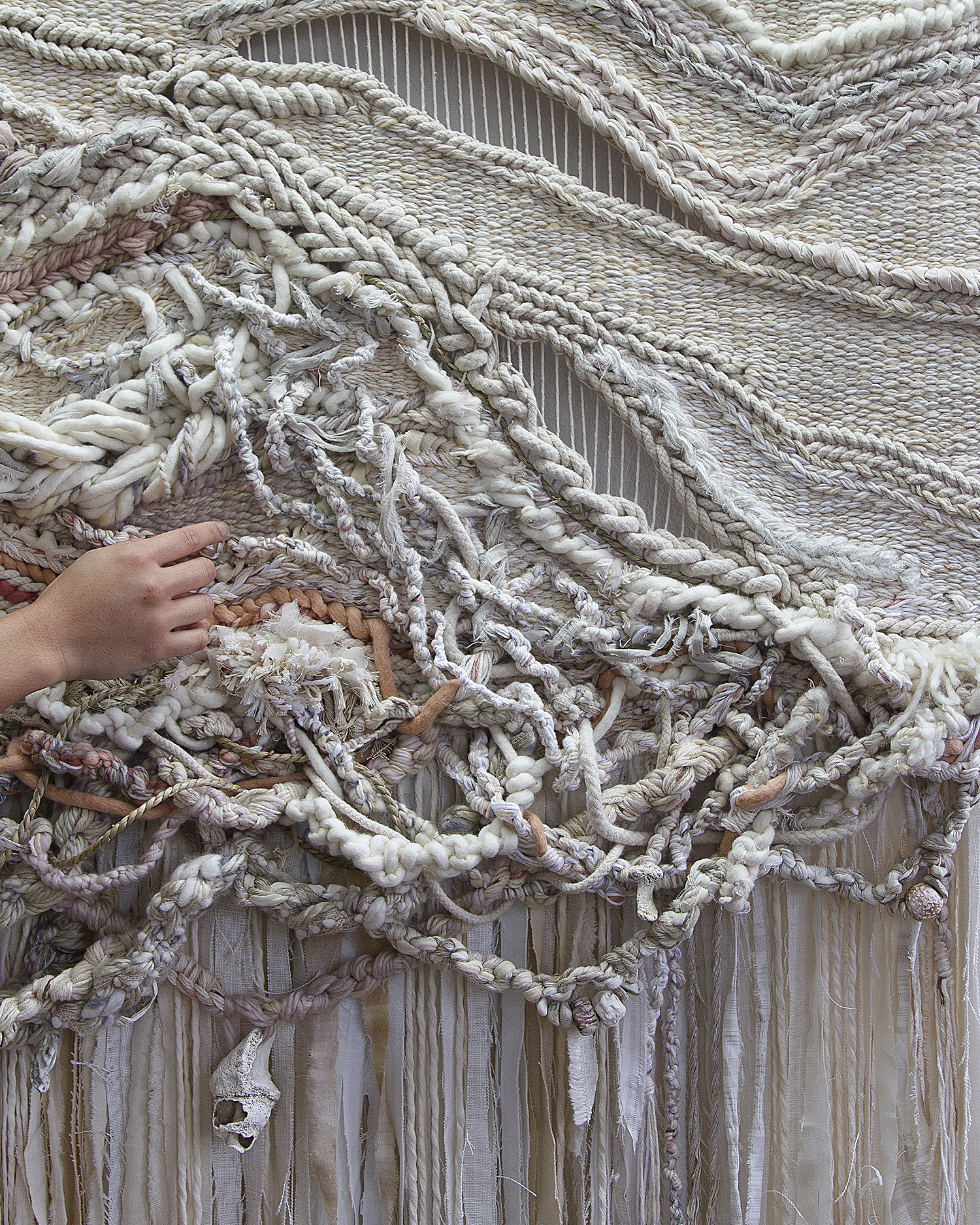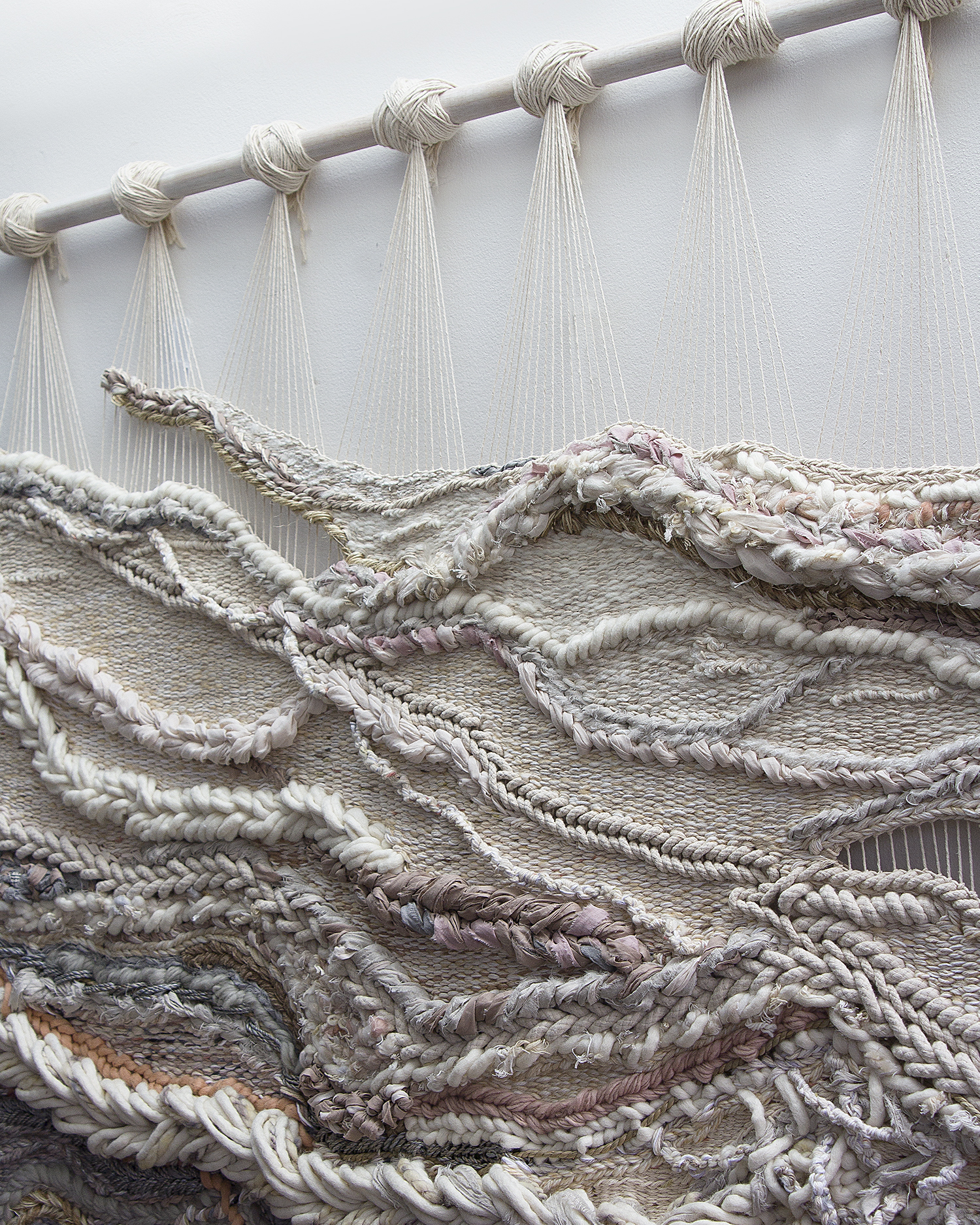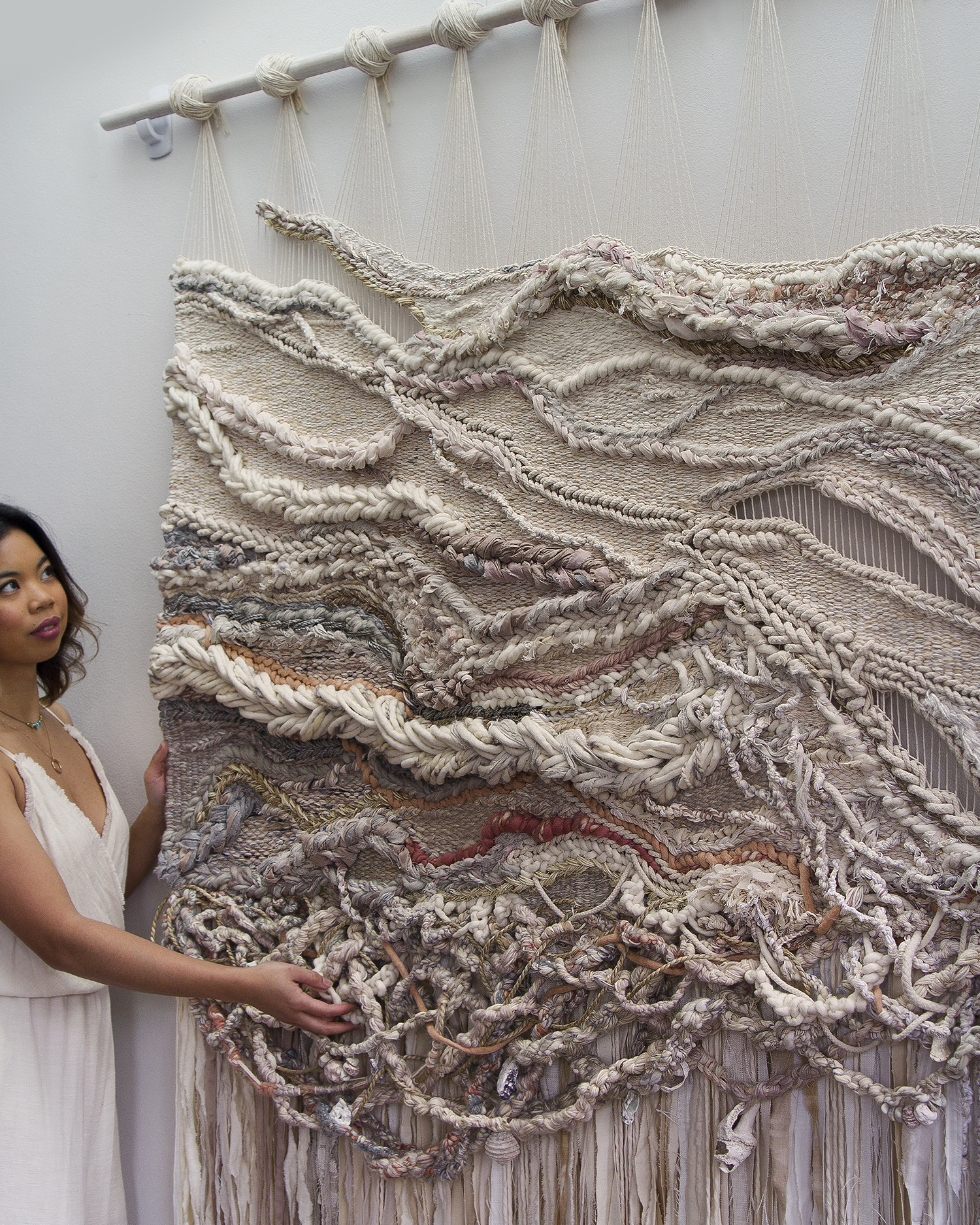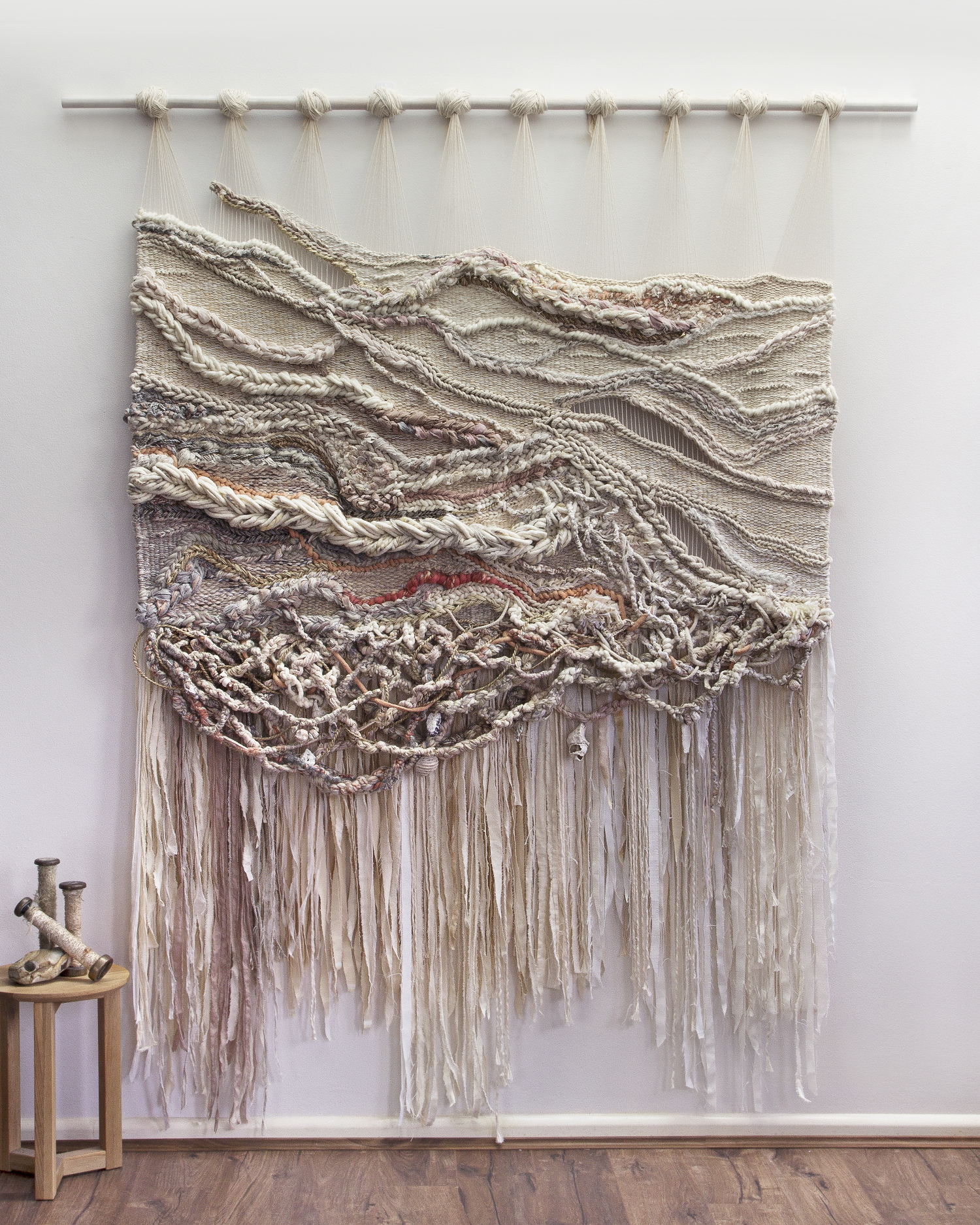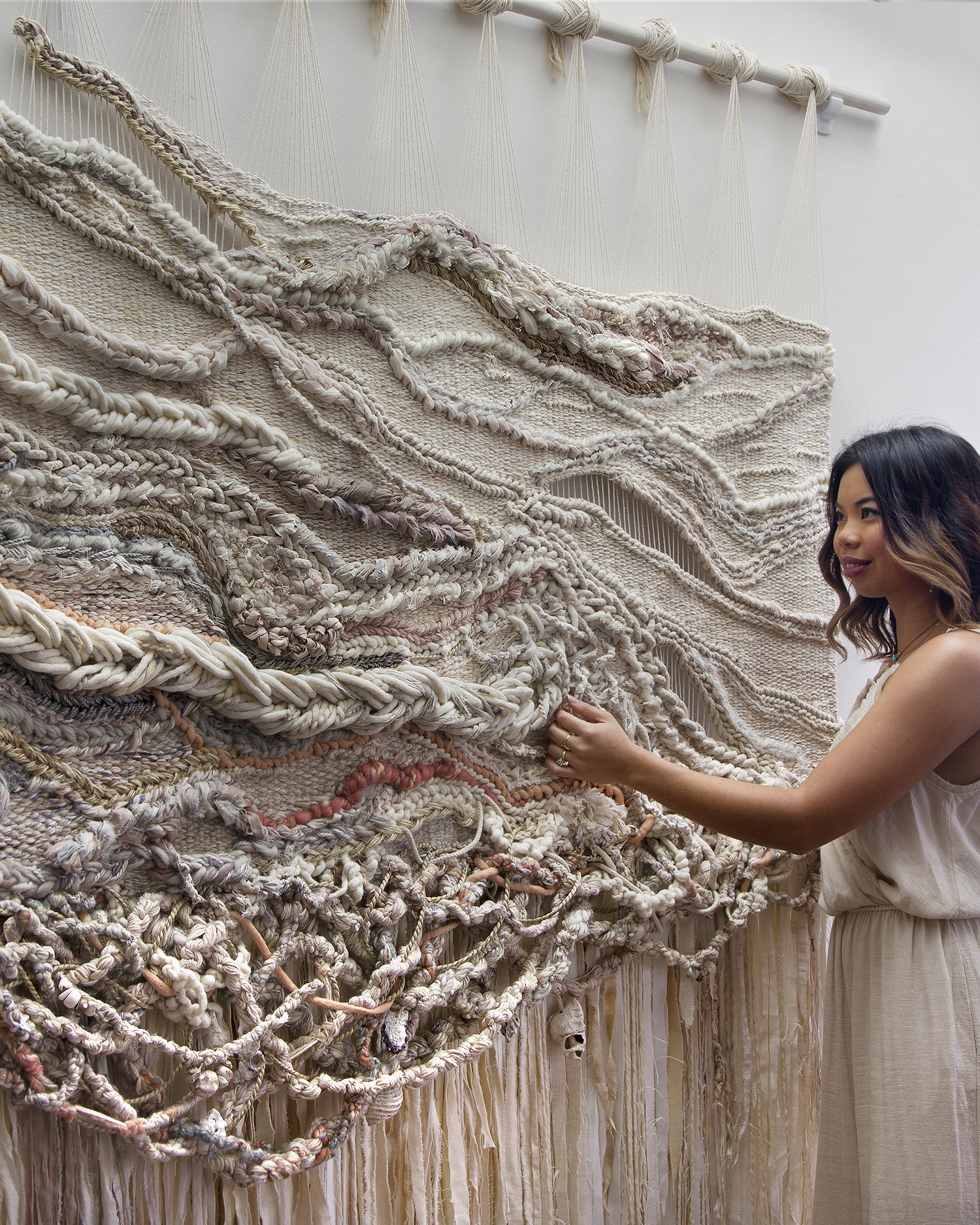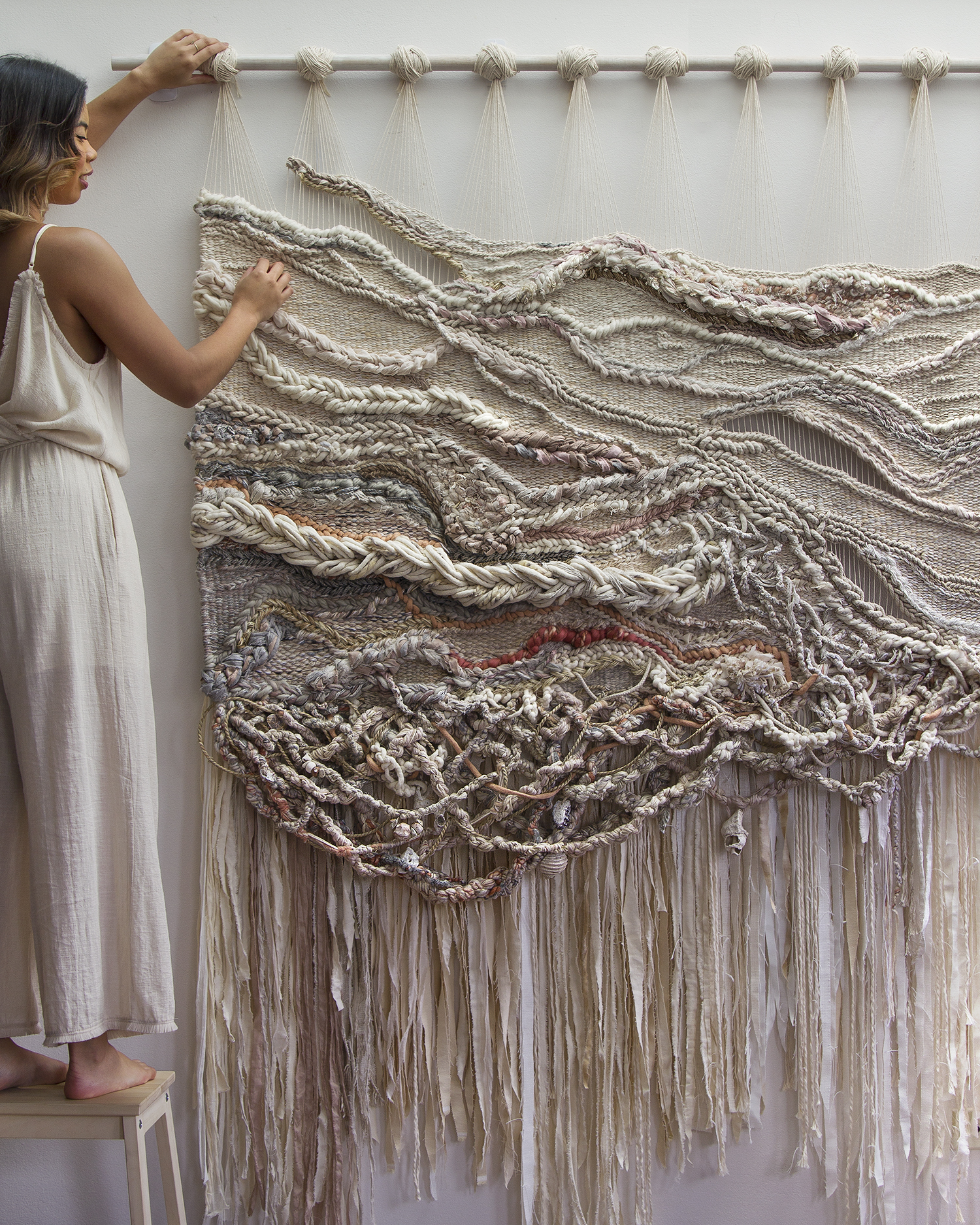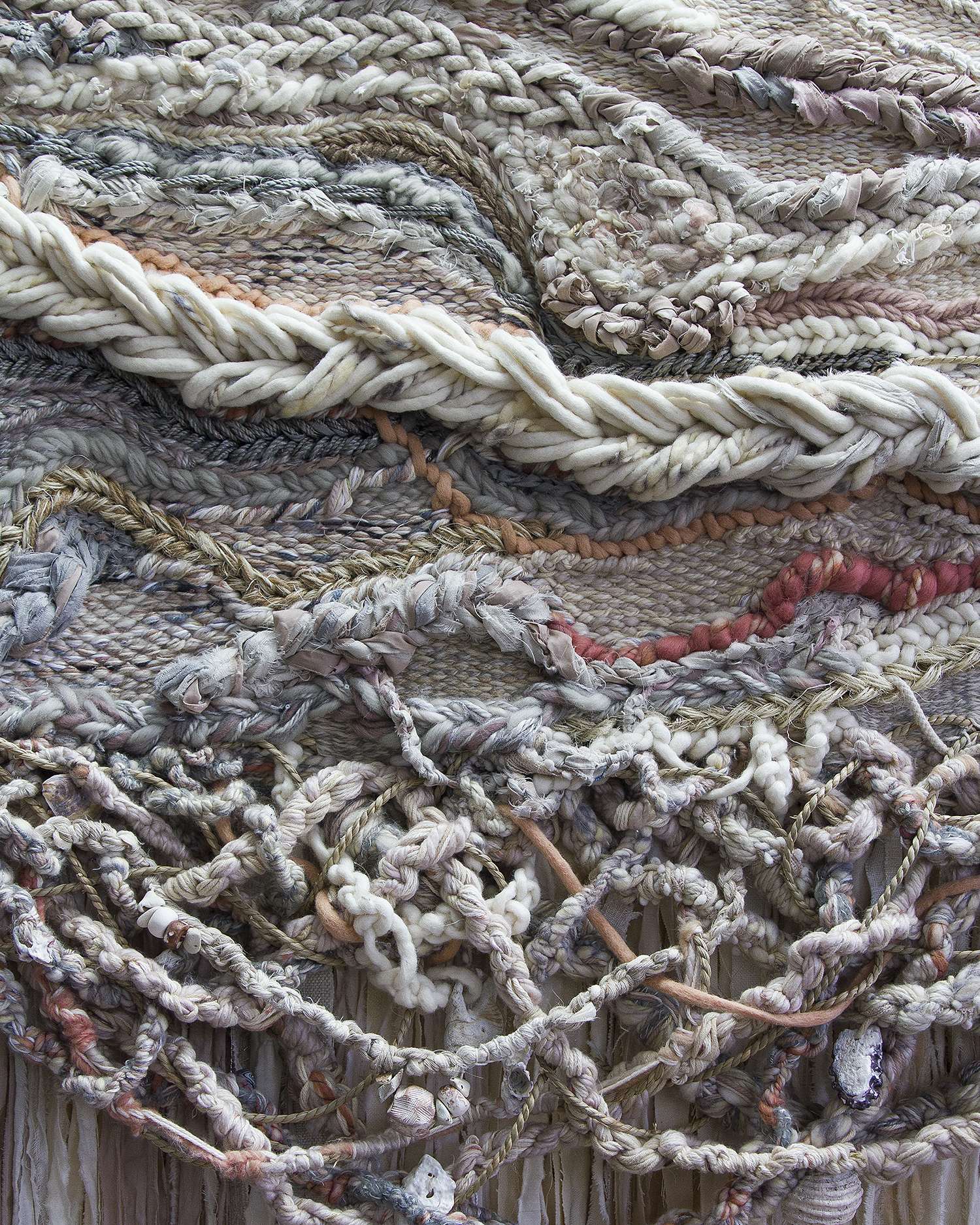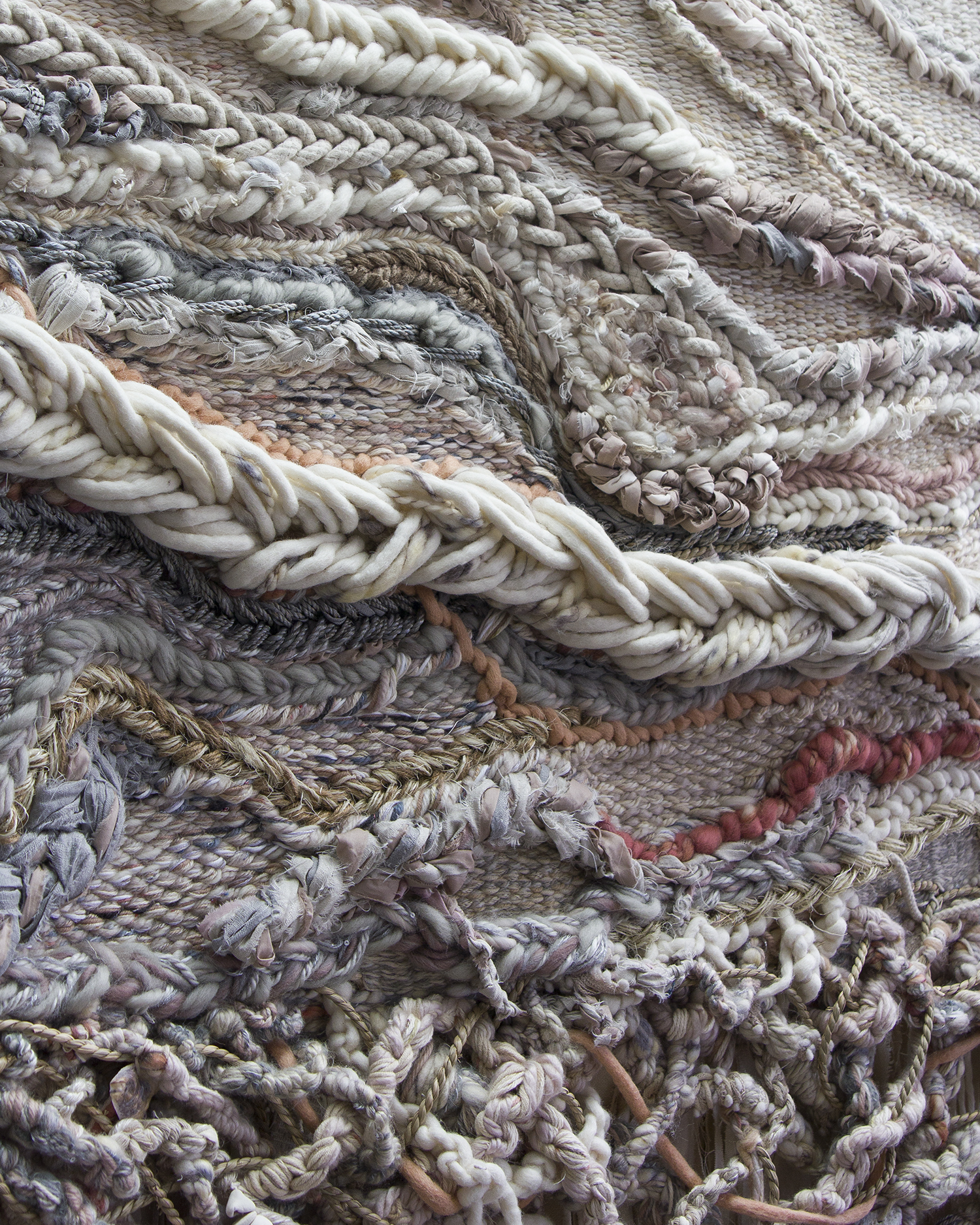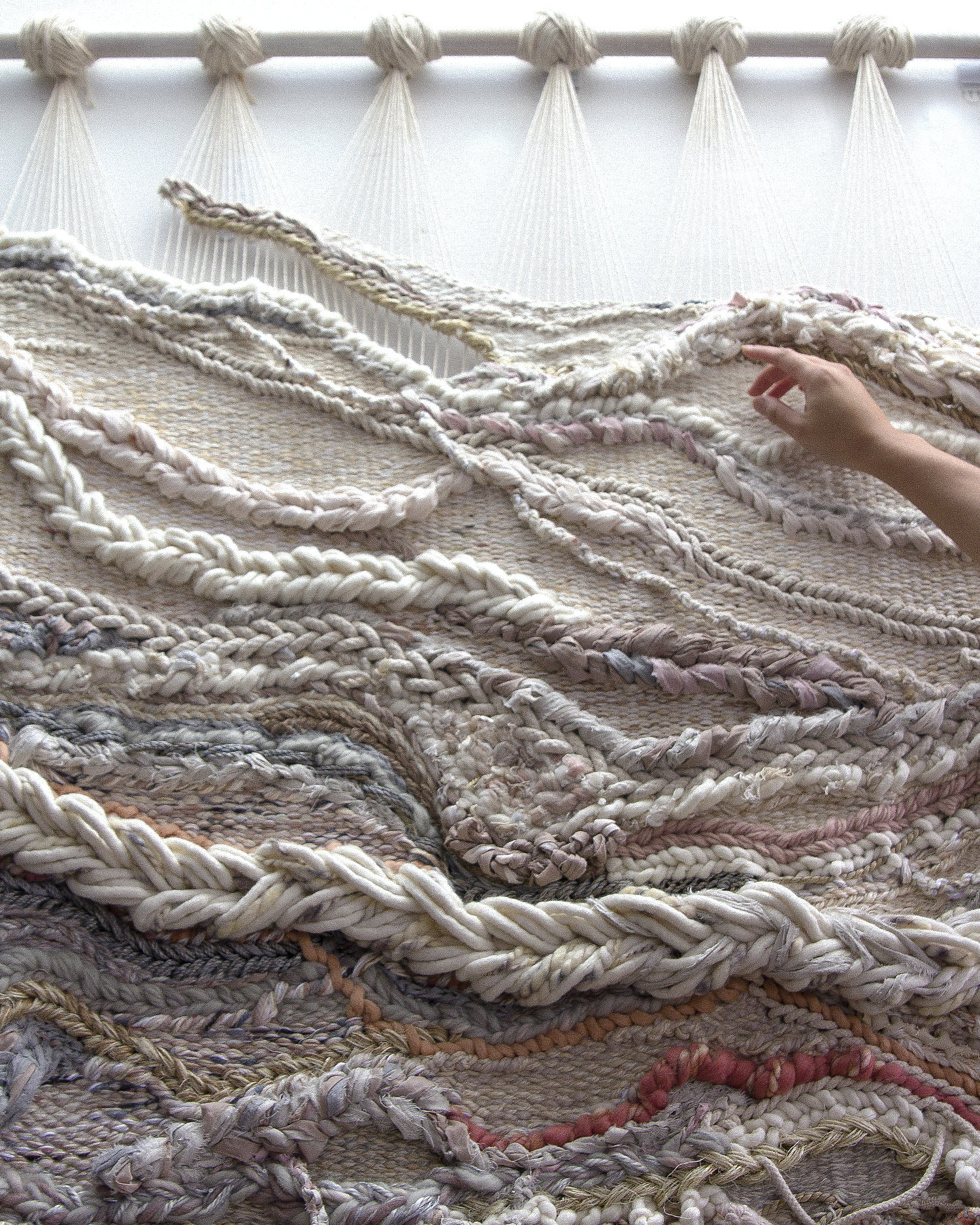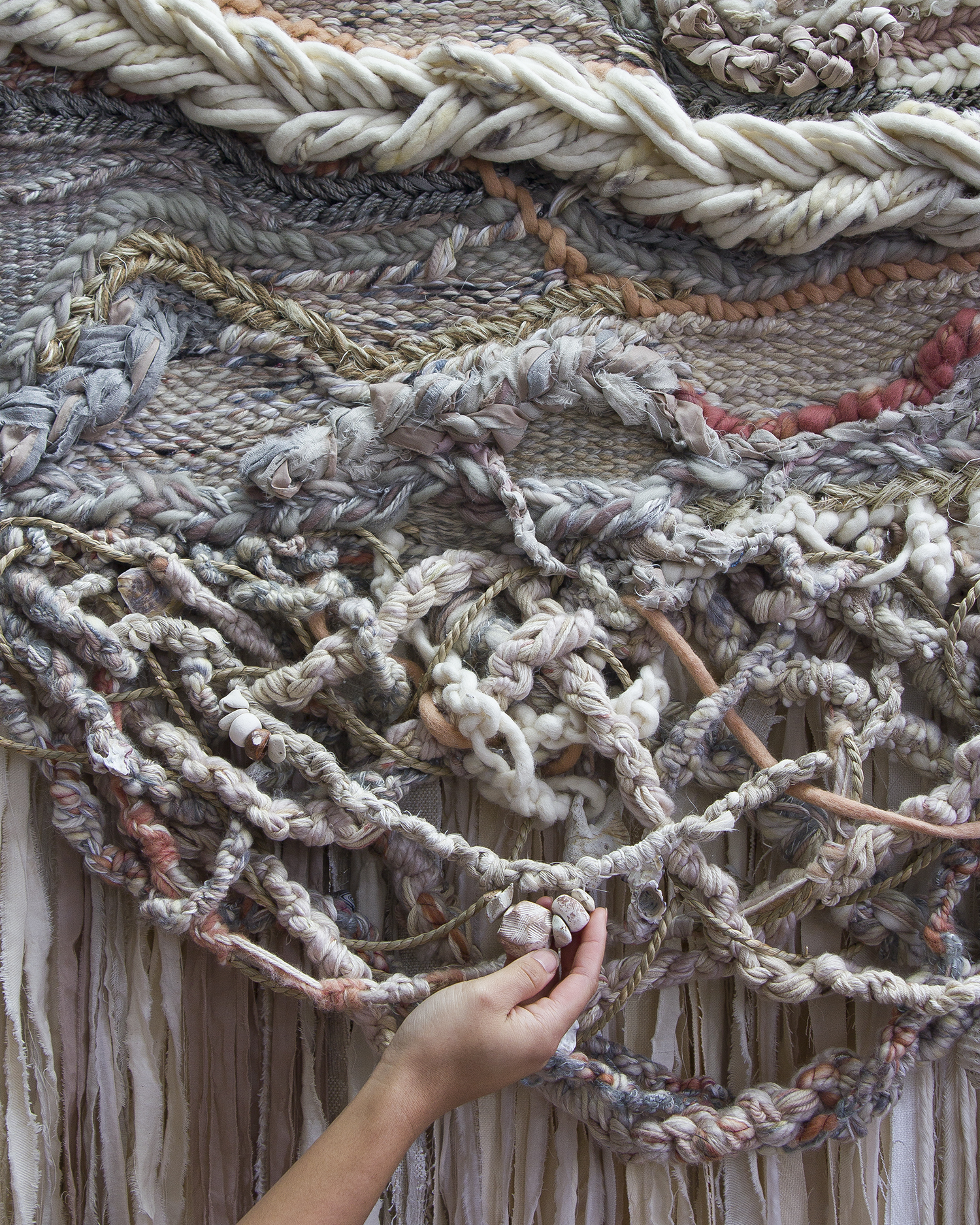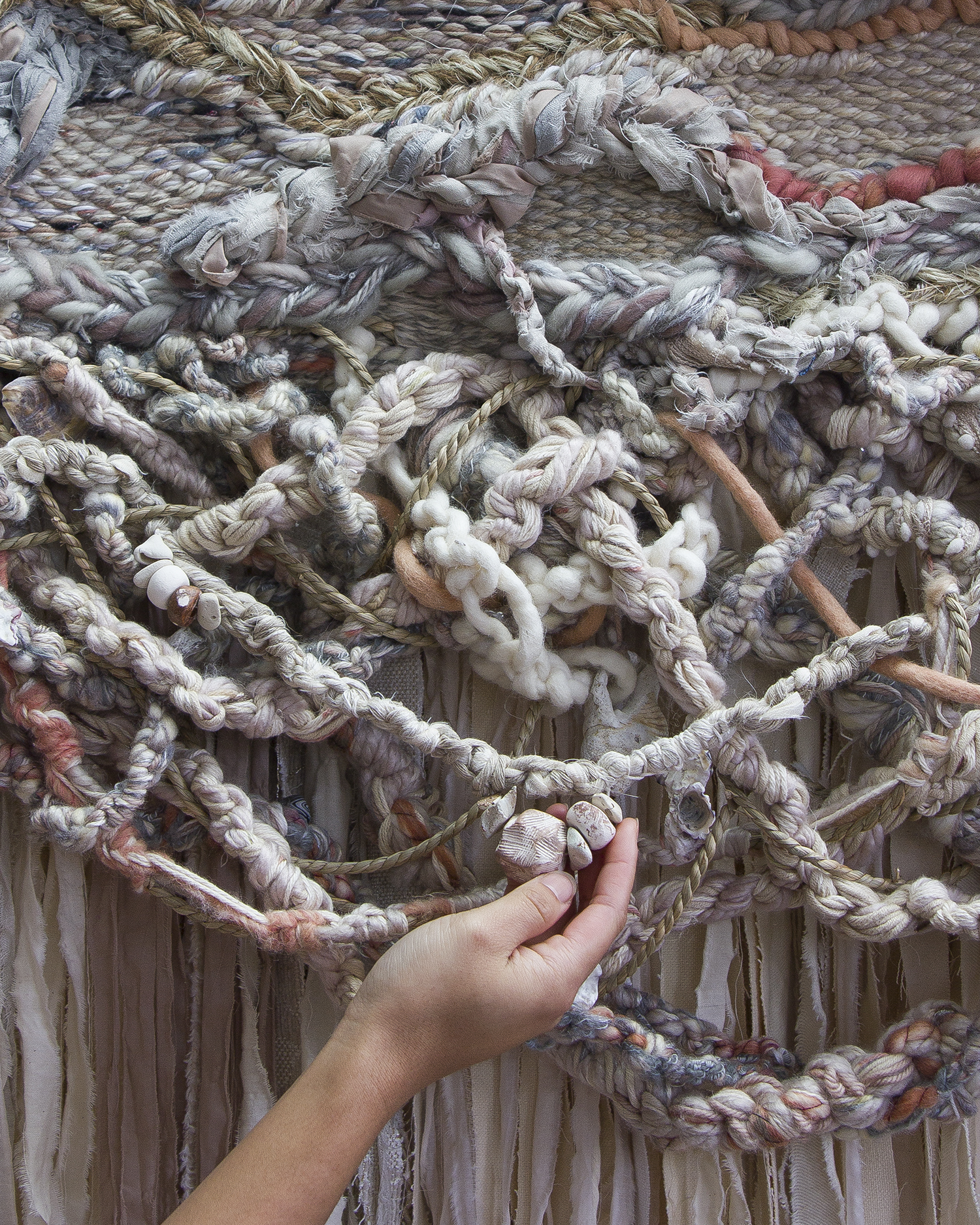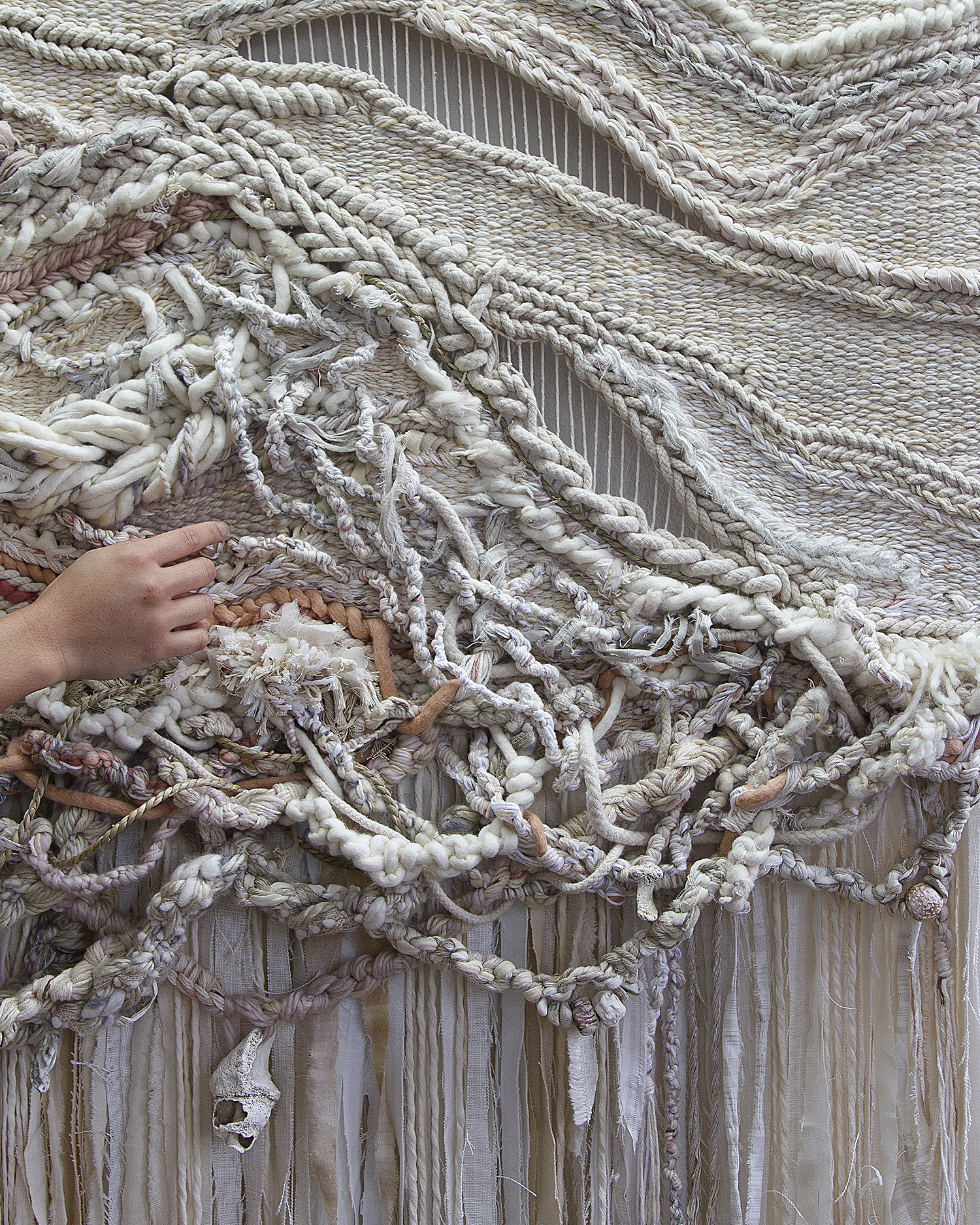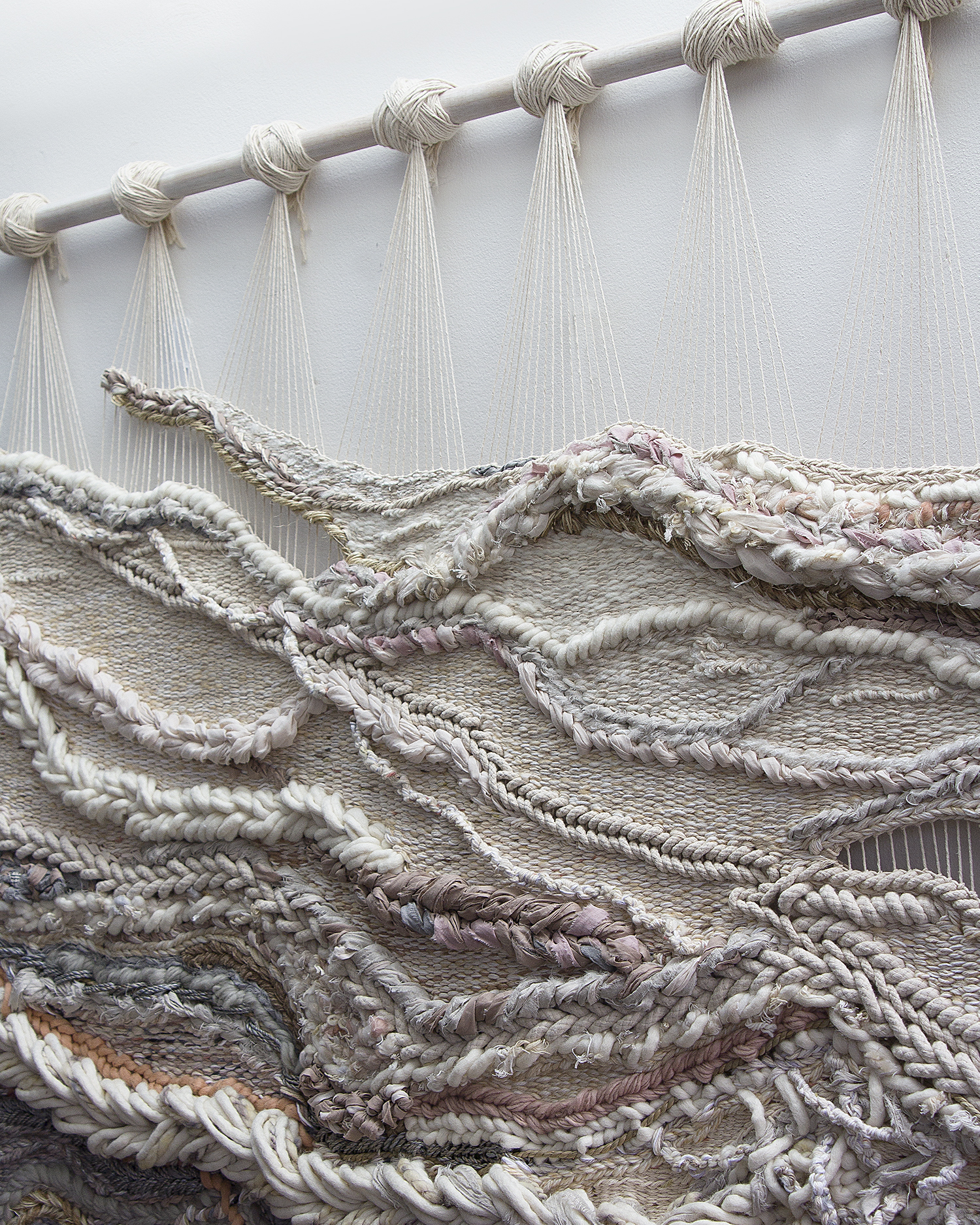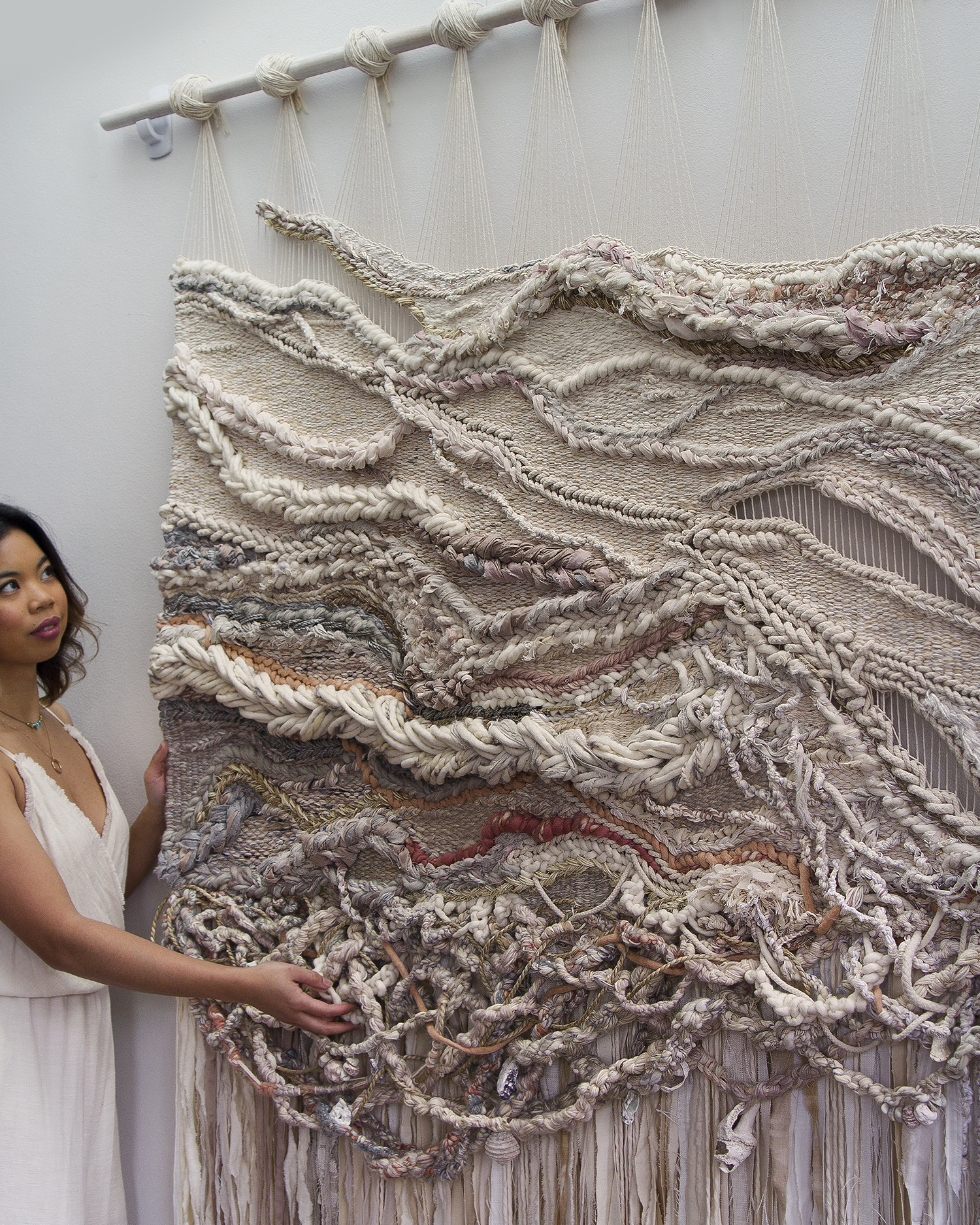 sold out
'CREVICE'
FREE DOMESTIC DELIVERY*
STUDIO SALE, 30% OFF. PRICE AS MARKED.
Meet 'CREVICE' - a textural statement for any interior!
This weave measures:
150cm (59") wide
210cm (82") length
and hangs off a 180cm (70") patina Tasmanian oak dowel
Entirely handwoven here in Sydney, Australia.
Materials include: linen, cotton, Pima cotton, Merino wool, felted Merino wool, Alpaca, bamboo, chambray, sari silk, hand-spun scrap yarn, wool-blend yarns, hand-dyed twine, basketry rope, foraged seashells, handmade custom Crossing Threads bisque beads, stoneware beads, up-cycled upholstery, canvas and sisal.
Installation method and instructions will be provided upon purchase. Please enquire.
This large-scale experimental beauty 'CREVICE' explores the notion of 'what was' and what was 'meant to be', similar to the cracks that appear when our identity and sense of self is in a state of flux. With the consideration of negative space and angled inclination, the weaving is suspended by an exposed warp, demonstrating that we all are 'hanging by a thread' in times of change. The muted colour palette was inspired by iridescent, foraged seashells; each a result of the unpredictable nature of the ocean and time. The composition is reminiscent of the skeleton of an old shipwreck resting on the bottom of the sea; succumbed to the growth of barnacles that have attached themselves, with its layers eroding over time. This is emblematic by the clusters of shells and handmade, patina bisque beads that are caught amongst the net of interknotted chains. A distressed Marie Antoinette, personified through the hand-torn linen fringing, almost mimicking a 'past-life' of beauty that has faded into perforated sails that no longer 'blow in the wind'. This personal work 'CREVICE' is a manifestation of what it feels to let things slip through the cracks, versus a complete surrender to 'let the light in'. - Kass
CARE INSTRUCTIONS
Australian made and hand woven by Crossing Threads™. The buyer understands the terms that come with handcrafted products. Please handle with care. Our bespoke weaves are unique and designed to be a wall hanging and decorative textile only. Avoid moisture and rough objects/surfaces that may snag the fibres. Using a soft feather-duster, lightly brush off any dust build-up. Alternatively, you can vacuum the weaving using a soft brush head and set it on the lowest setting possible.
INSTALLATION
Methods of installation such as leather pulls and instructions on how to adequately install the weave will be provided once purchase has been made separately.
SHIPPING AND DELIVERY
*Receive free shipping on all domestic orders within Australia, excludes shipping on commissioned work. All orders will be shipped within 1-4 business days of purchase. A notification will be shared with you with once order has been dispatched, along with tracking information. Delivery dates will vary depending on location. We pack each weave with the utmost care and protection, however we do not take responsibility for any potential damage to the weave/s and or loss of weave/s whilst in transit. We strongly suggest the buyer to opt for including item value insurance due to the nature of our bespoke pieces. Please let us know if you would like us to arrange this for your order.
REFUND POLICY
We do not accept any refunds or exchanges, including refunds on deposit payments for commissioned work. All sales are final. Damage to the weaves due to misuse or lack of following care instructions will not be covered. Each weave is handmade and any irregularities or imperfections are traits of its unique aesthetic. If you do experience any problems with the piece we appreciate that you contact us first immediately so we can best resolve the issue as soon as possible.
COLOURS AND IMAGERY
Reproduction of colours is as accurate as photographic processes allow, however please note that product colours may vary from what is displayed on your computer monitor and may vary from monitor to monitor and device to device.
© ALL RIGHTS RESERVED. LAUREN AND KASSANDRA HERNANDEZ T/AS CROSSING THREADS®
All work and content created by Lauren and Kassandra Hernandez of Crossing Threads® is subject to copyright. Any attempt or act of imitation, replication and reproduction of our designs and visual language may result in legal action.