SHOP
Proudly handwoven and made with love in Sydney, Australia. With each fibre and material hand sourced and carefully considered, each piece is truly one-of-a-kind. Instantly add warmth, character and 'the mark of the hand' to your interiors today.
'NOLA' - JUMBO TASSELS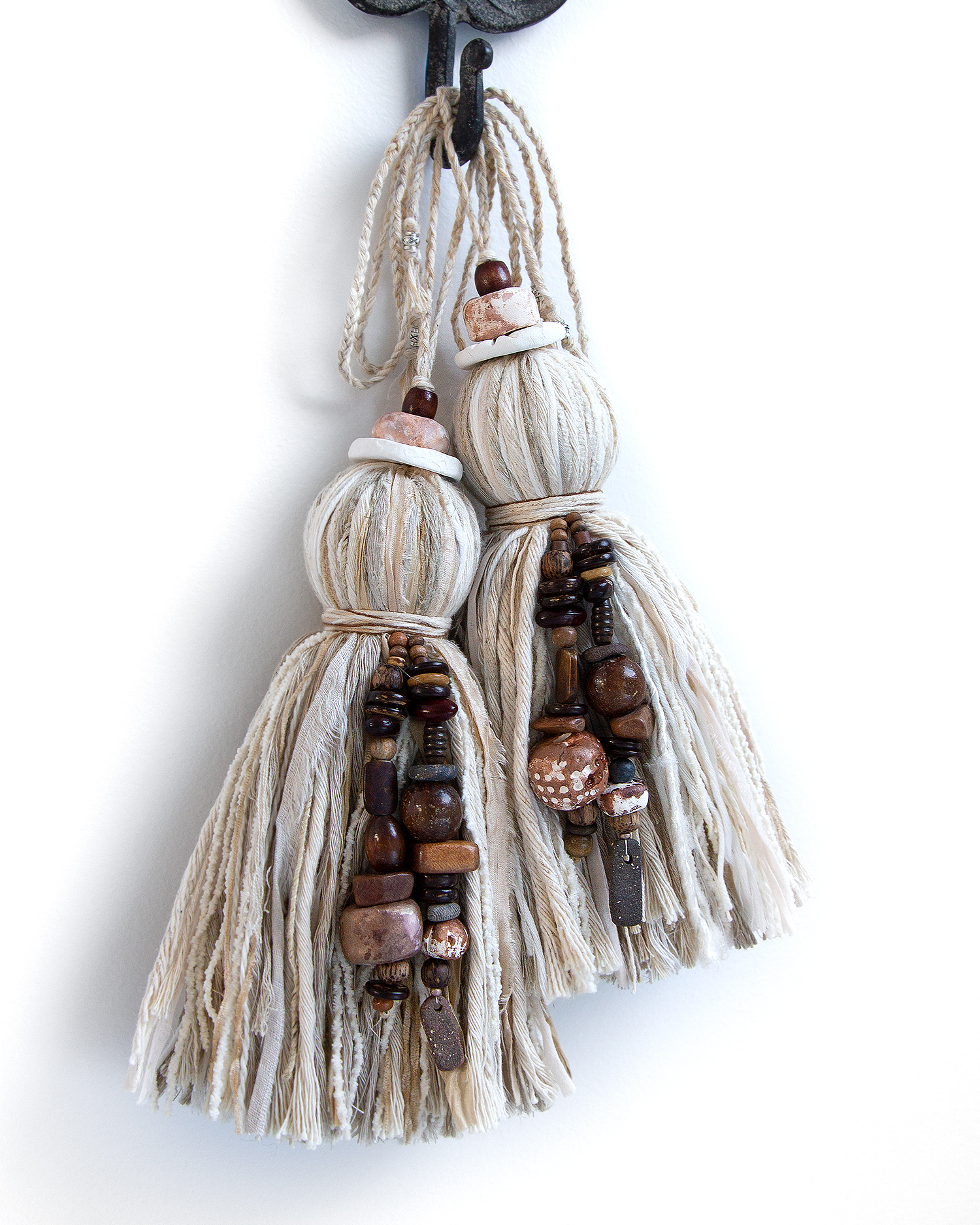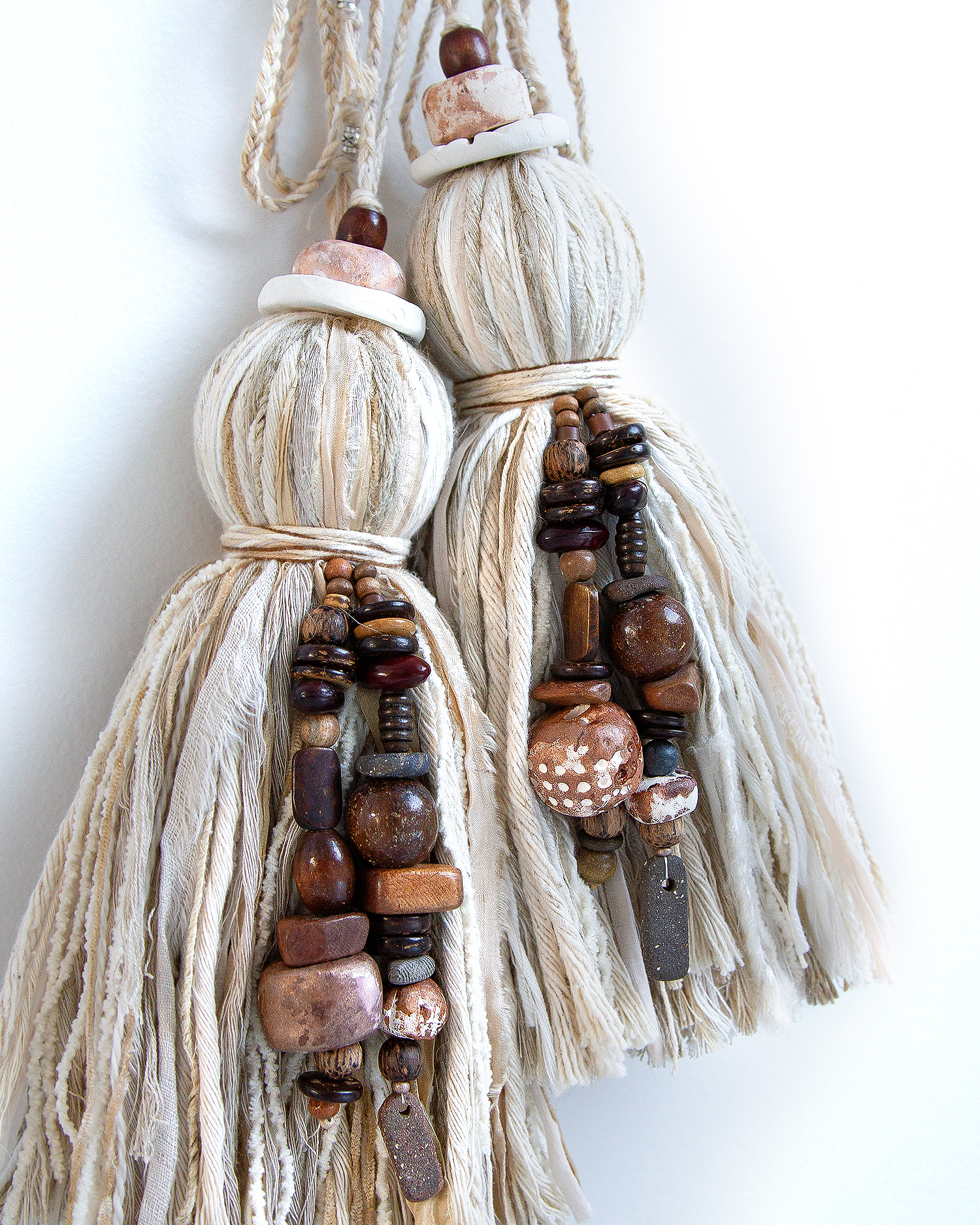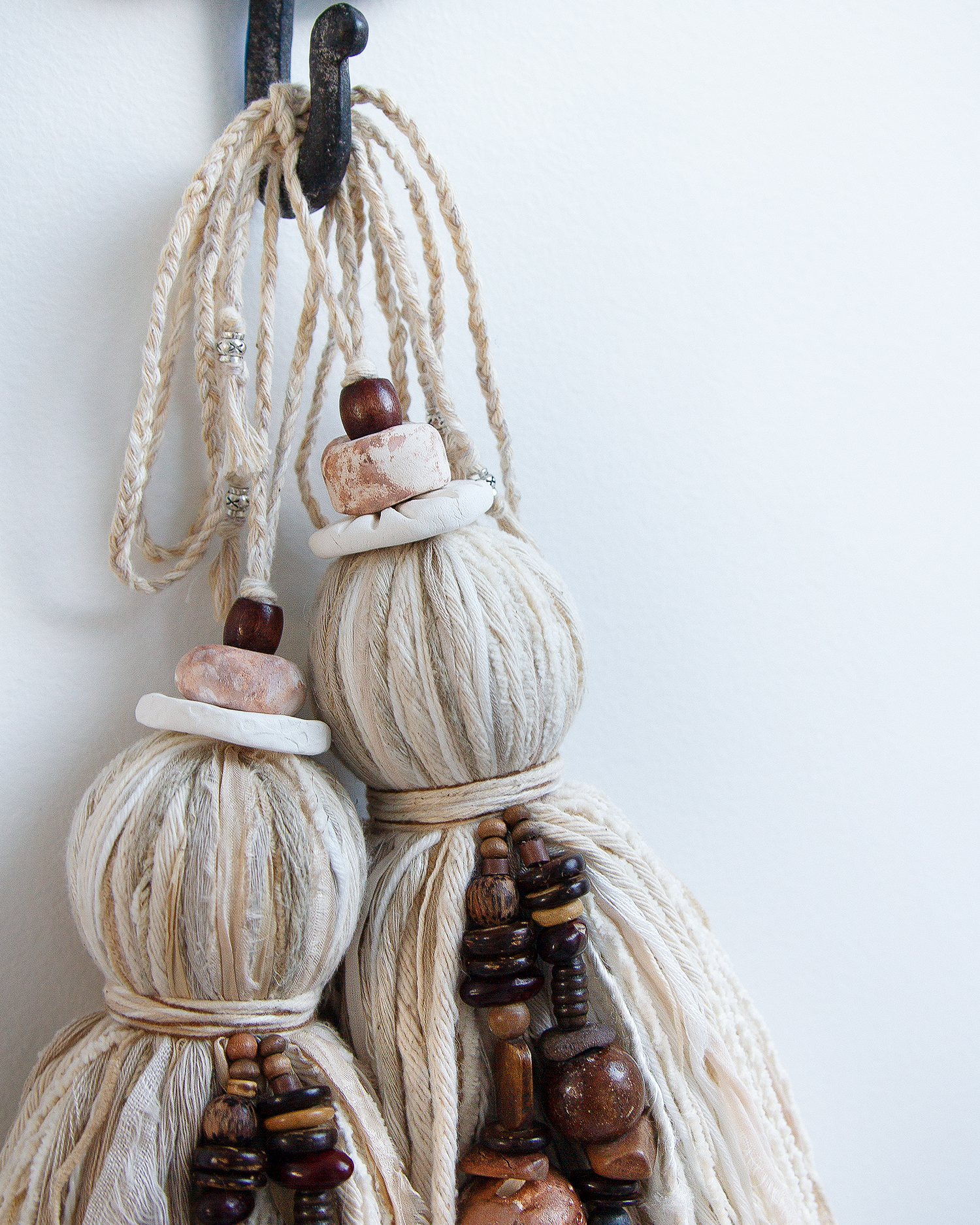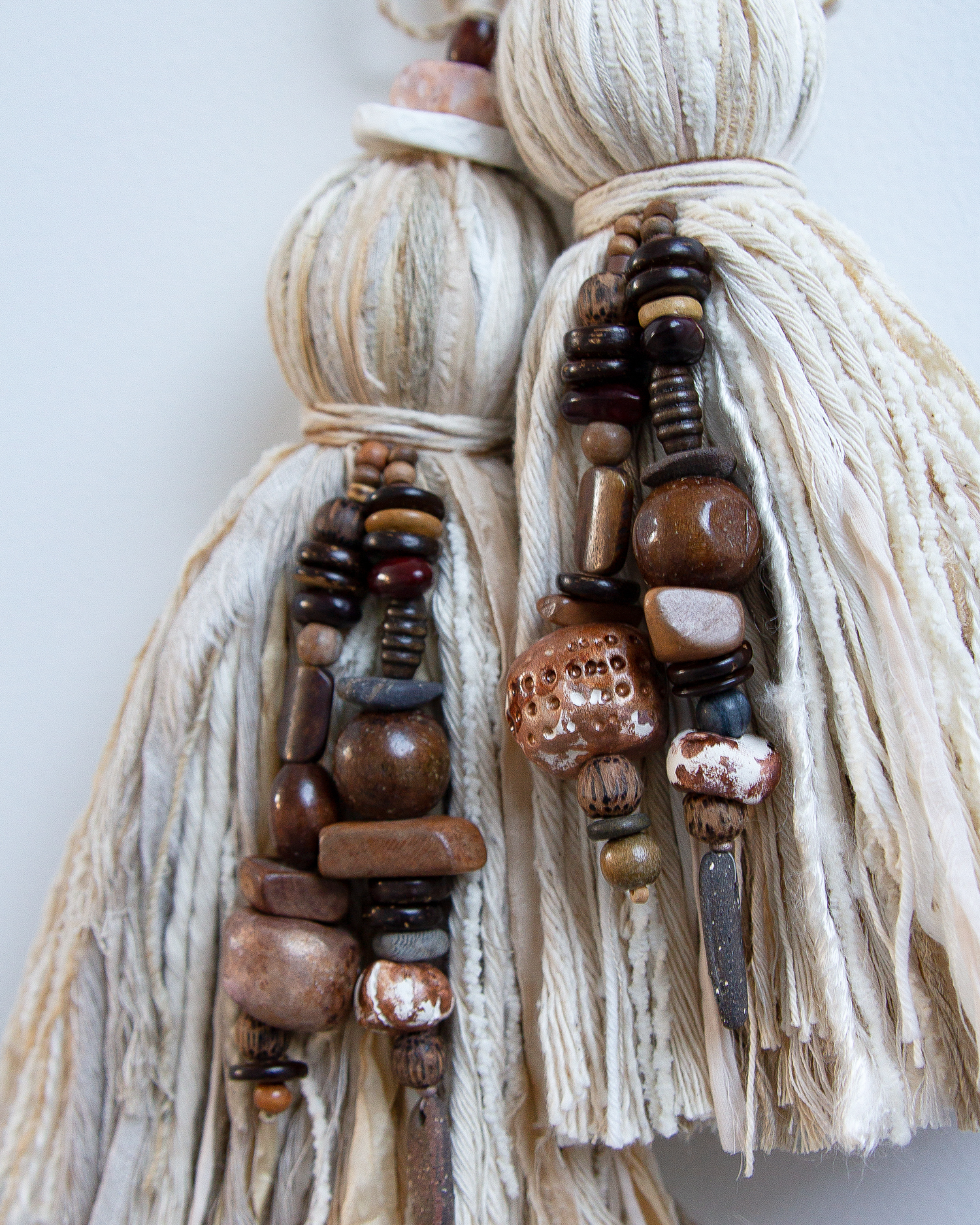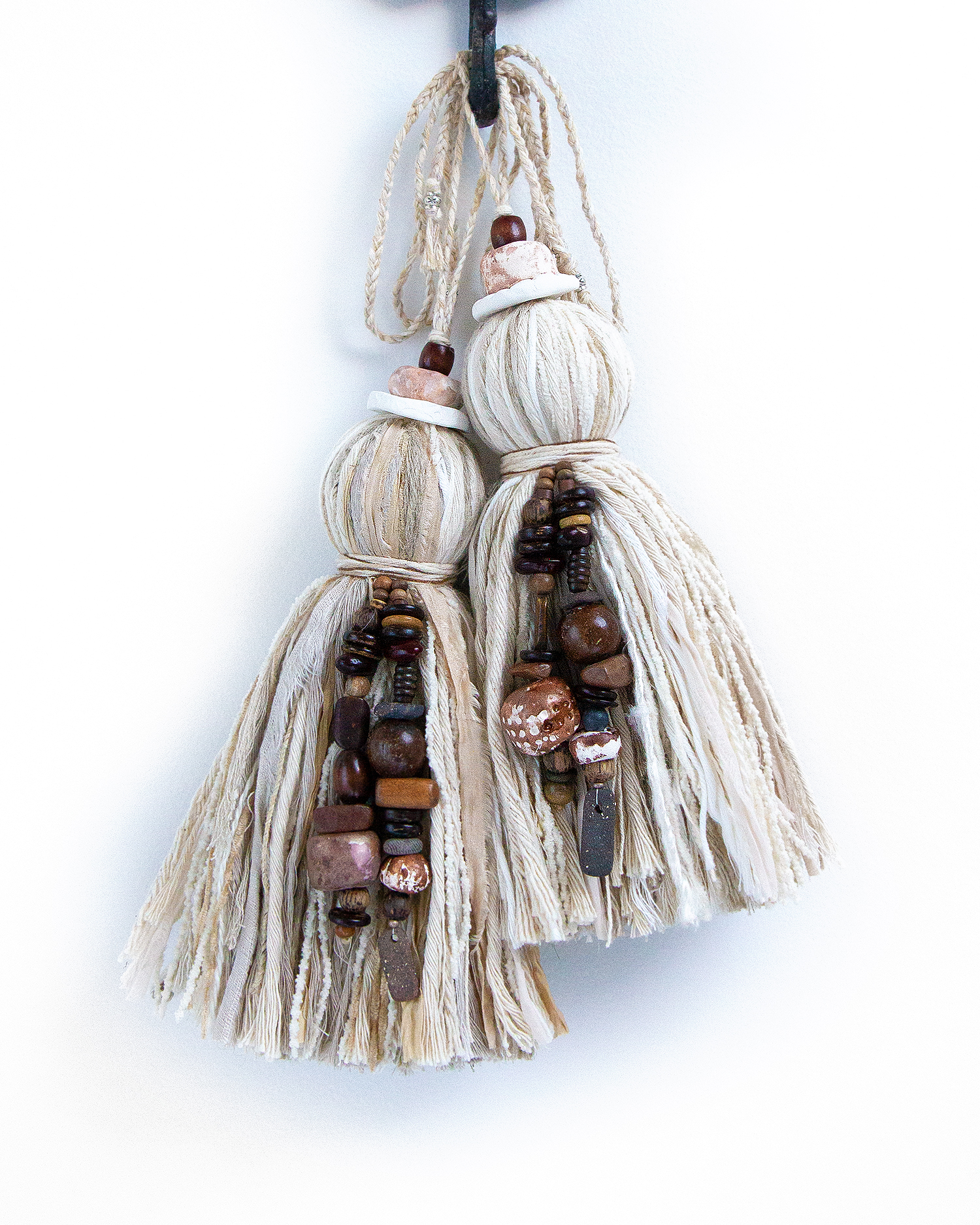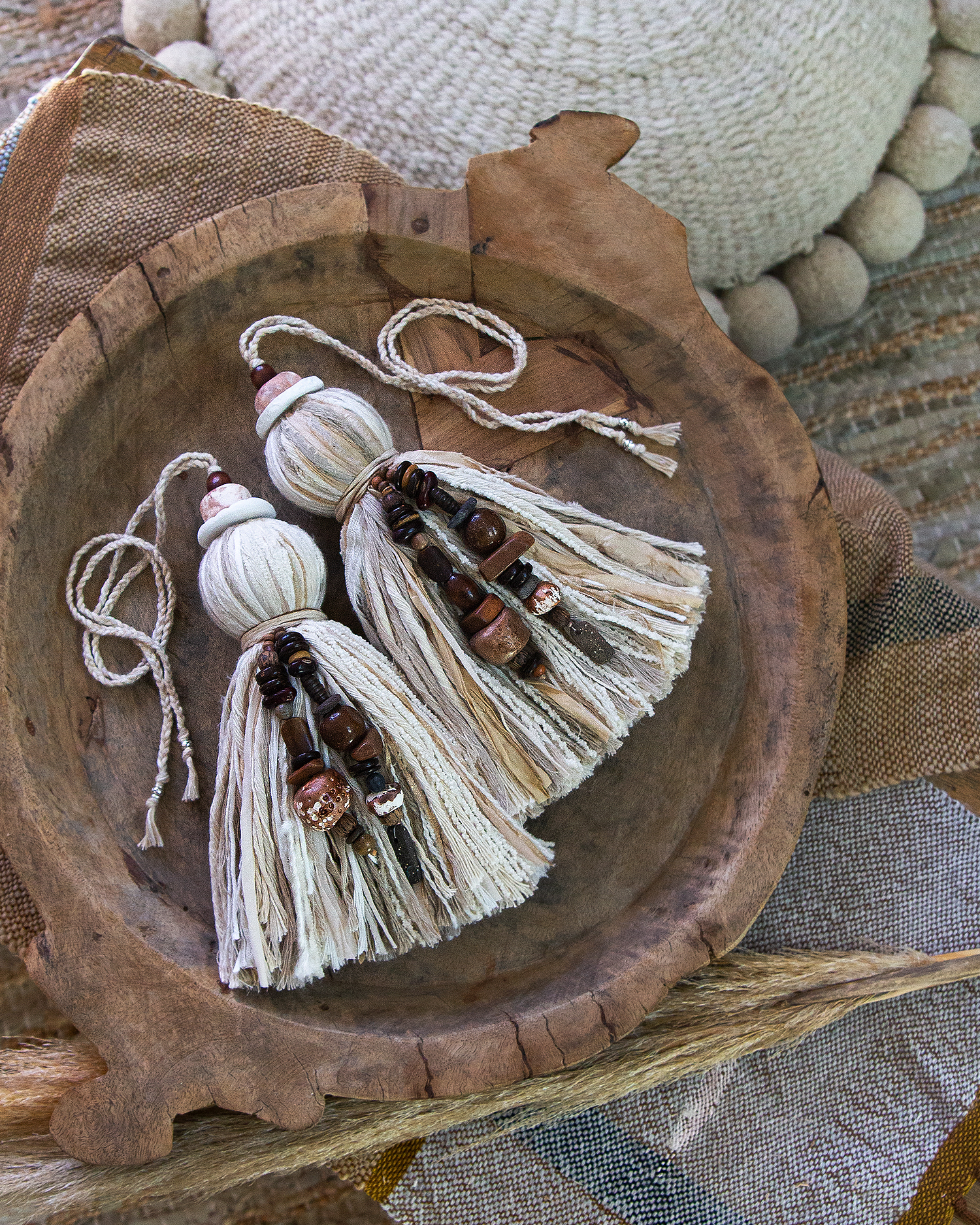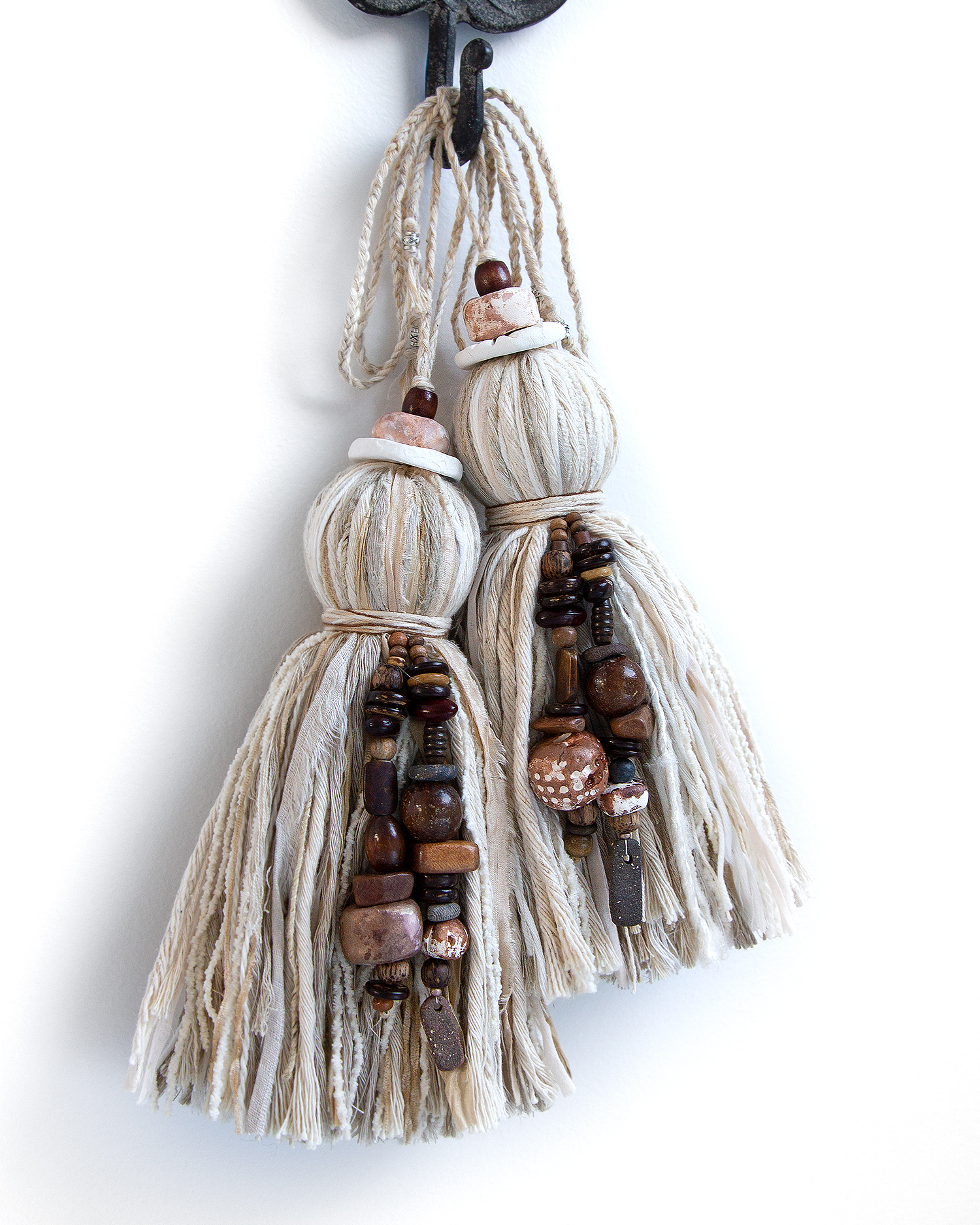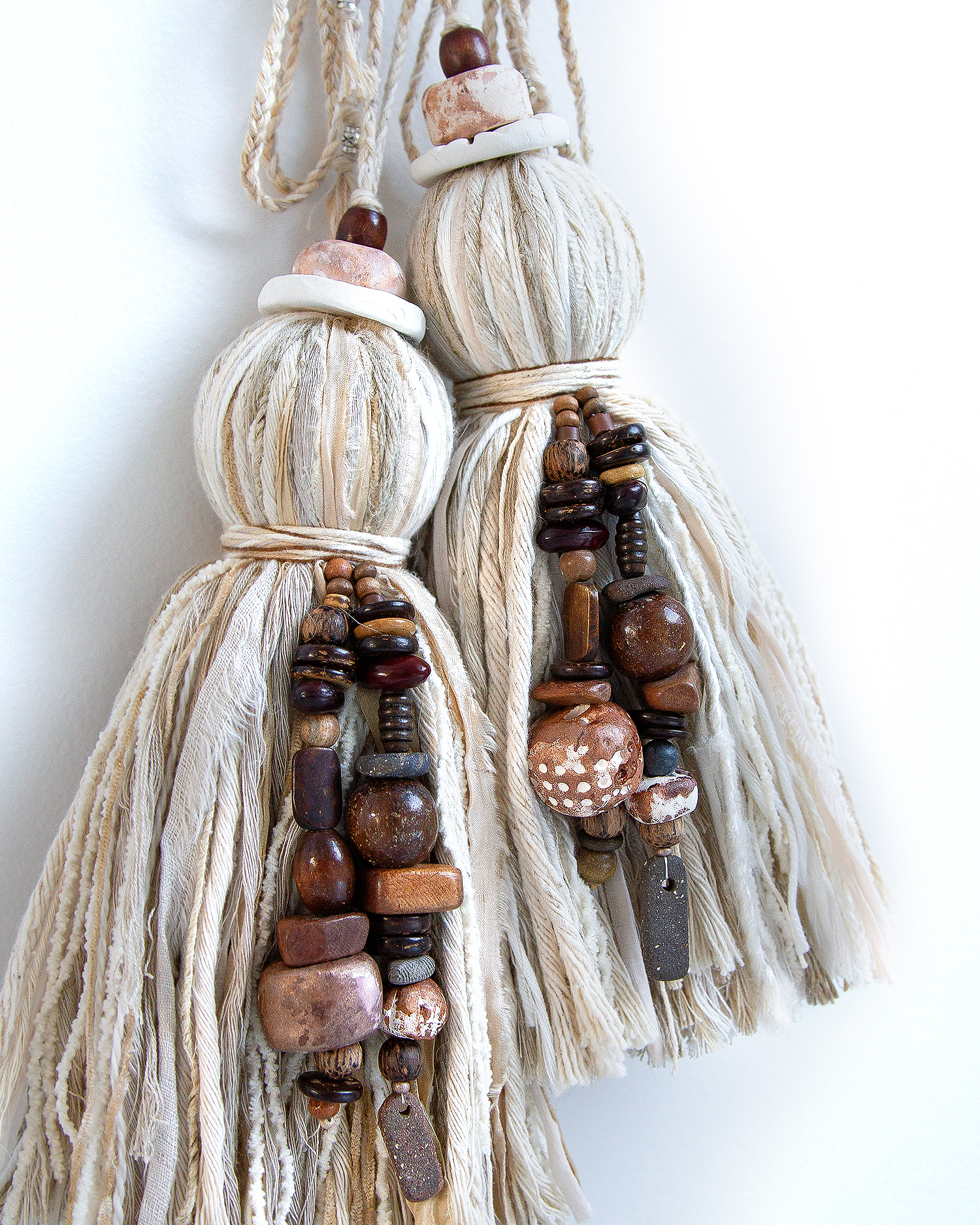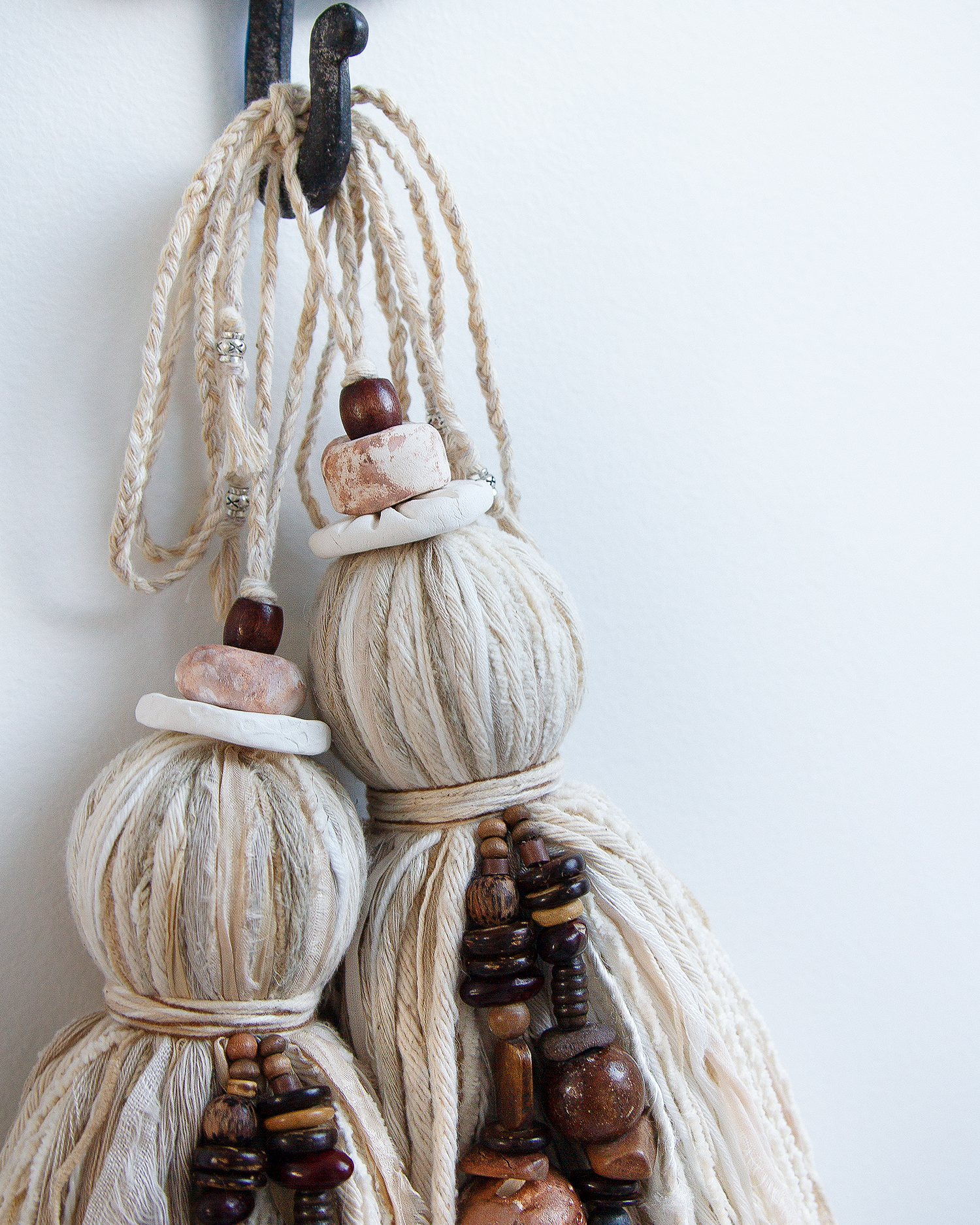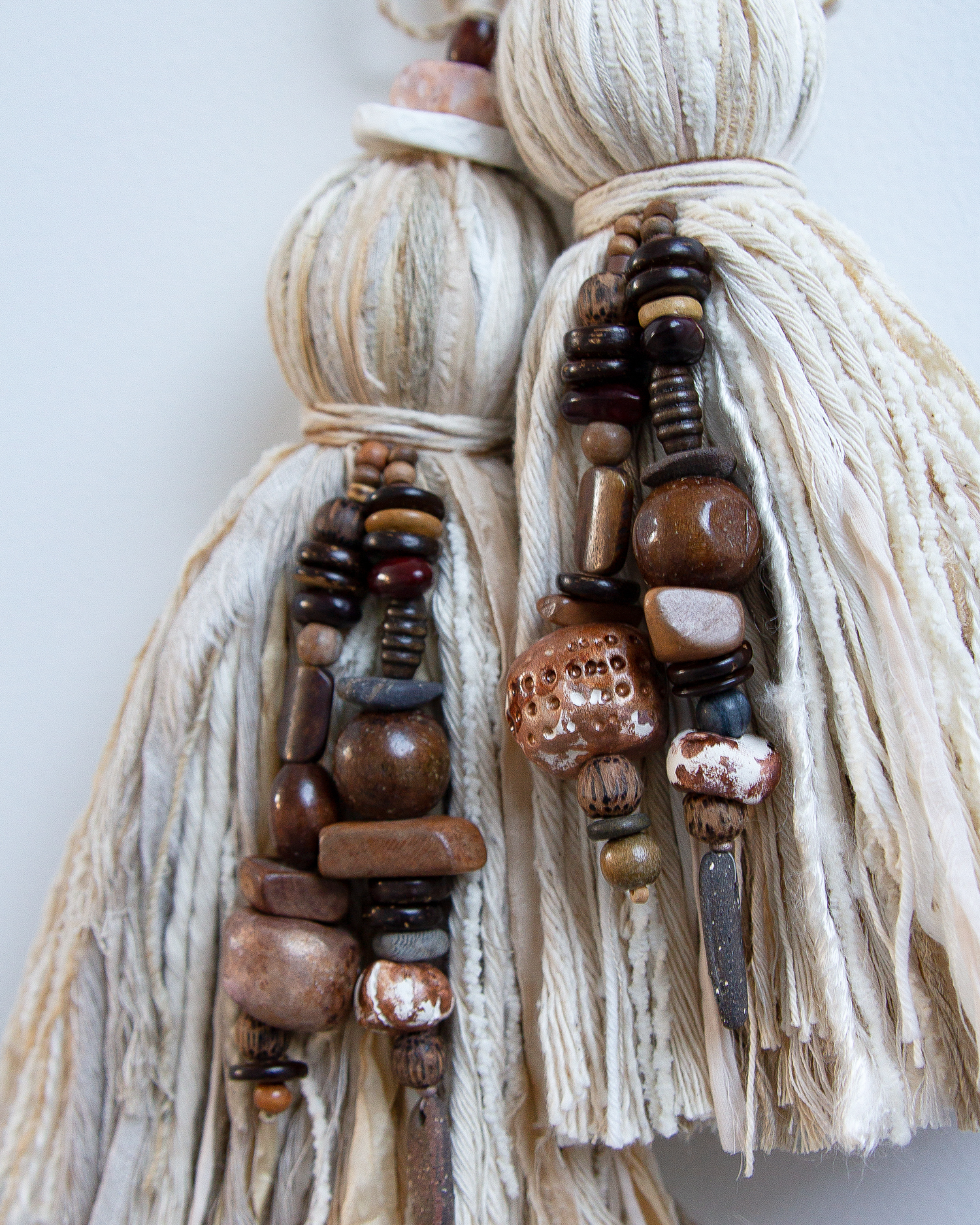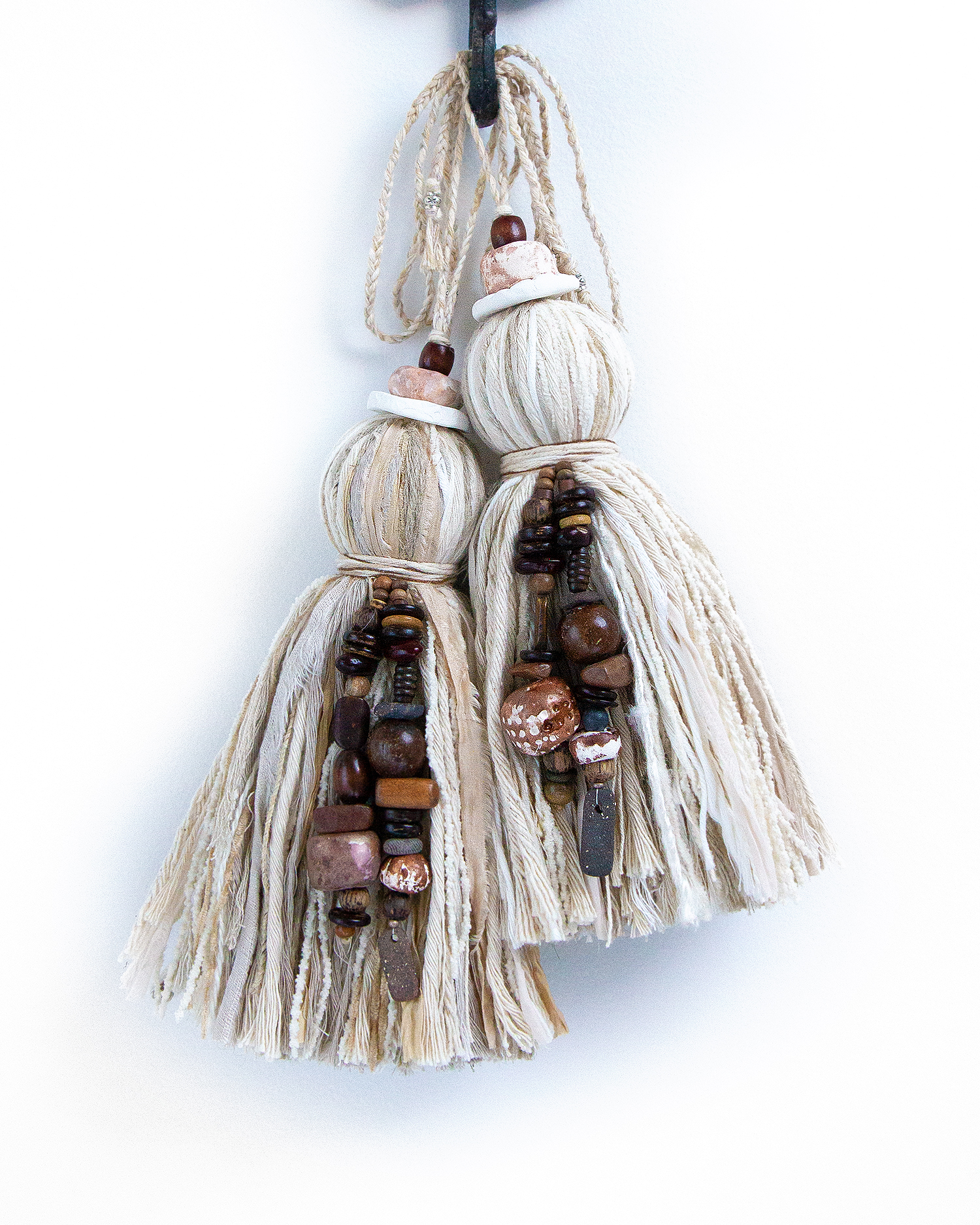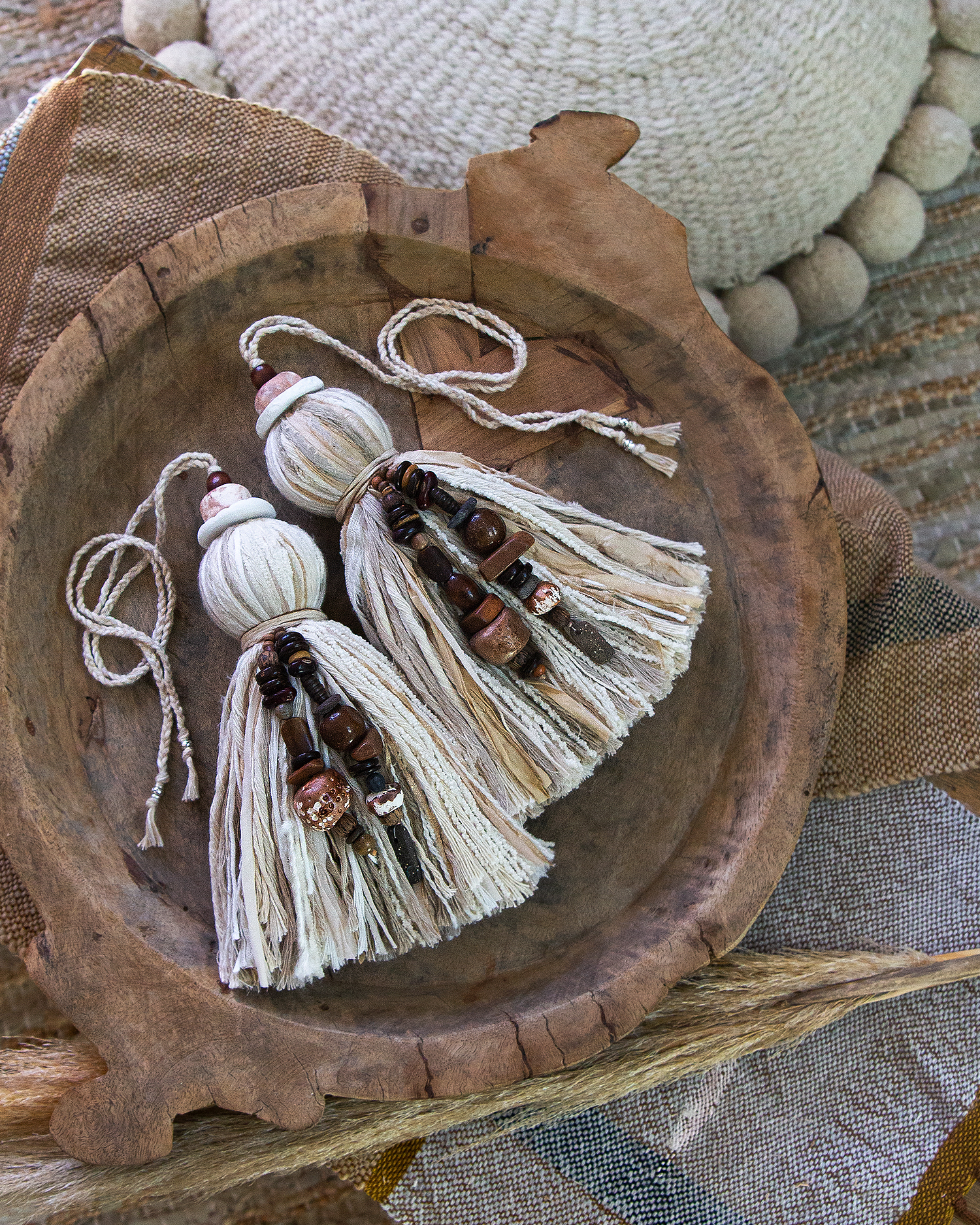 sold out
'NOLA' - JUMBO TASSELS
FREE DOMESTIC DELIVERY*
Meet 'NOLA' - a neutral, JUMBO-size pair of tassels with a tribal and raw aesthetic.
Her varied mix of muted, hand-torn linens symbolise the relaxed feelings of island life. Transient in nature, she has hints of taupe and hand-cut sari silk strips. Embellished with deep, rustic brown, soap-seed and Balinese-inspired beads, 'NOLA' manifests a grounding sense of balance and zen. She is also adorned with an assortment of wooden vintage beads, Australian handmade stoneware beads, handmade bisque beads made by Crossing Threads, mixed agate and gemstones beads. Like bringing home mementos from her travels, these tassels are sure to bring out the free-spirited 'vagabond' in you.
With two self-tie cords, you have the freedom to style them with curtains, decorate a door handle, adorn a basket, spruce up a pot planter and or tie around a lampshade. Or why not simply hang them as an ornament during the holiday season or on a hook for that flash of delight! There are many versatile ways to decorate your space.
Every CT tassel features our handmade ceramic beads, entirely one-of-a-kind and truly unique. Our beads are hand-rolled and imprinted with unique textures, followed by a bisque firing and a patina finish. Look closely to admire all the sweet details.
A single tassel in this pair measures:
Approximately 10cm width in fringe
Approximately 21cm length measuring from the top bead to end of fringing and hangs off two 40cm hand-plaited cords.
Materials include hand-cut up-cycled fabrics, hand-torn linen, jute, metallic thread, hand-dyed Merino wool, cotton rope, sari silk, banana silk, cotton string, viscose, rustic linen, and organic cotton. Adorned with wooden vintage beads, soap-seed beads, mixed agate beads, Australian handmade stoneware beads, handmade bisque beads made by Crossing Threads and mixed gemstone beads.
CARE INSTRUCTIONS
Australian made and hand woven by Crossing Threads™. The buyer understands the terms that come with handcrafted products. Please handle with care. Our bespoke tassels are unique and designed to be an indoor decorative textile only. Avoid moisture and rough objects/surfaces that may snag the fibres or ruin the delicate beads details. Softly run your fingers through the fringing to lightly comb the fibres. Lightly shake to dust.
SHIPPING AND DELIVERY
*Receive free shipping on all domestic orders within Australia, excludes shipping on commissioned work. All orders will be shipped within 1-4 business days of purchase. A notification will be shared with you with once order has been dispatched, along with tracking information. Delivery dates will vary depending on location. We pack each pair of tassels with the utmost care and protection, however we do not take responsibility for any potential damage and or loss of the tassels whilst in transit. Should you wish to take up item value insurance, please let us know and we will add this to your item post-purchase.
REFUND POLICY
We do not accept any refunds or exchanges, including refunds on deposit payments for commissioned work. All sales are final. Damage to the tassels due to misuse or lack of following care instructions will not be covered. Each tassel is handmade and any irregularities or imperfections are traits of its unique aesthetic. If you do experience any problems with the piece we appreciate that you contact us first immediately so we can best resolve the issue as soon as possible.
COLOURS AND IMAGERY
Reproduction of colours is as accurate as photographic processes allow, however please note that product colours may vary from what is displayed on your computer monitor and may vary from monitor to monitor and device to device.
© ALL RIGHTS RESERVED. LAUREN AND KASSANDRA HERNANDEZ T/AS CROSSING THREADS™
All work and content created by Lauren and Kassandra Hernandez of Crossing Threads™ is subject to copyright. Any attempt or act of imitation, replication and reproduction of our designs and visual language may result in legal action.